Choosing the best cat furniture
Why buy cat furniture? you might ask. True, cats might not "desperately need" a piece of furniture. However, having a piece of feline furniture might just save your own furniture.




Since cats are territorial, having a piece of furniture they can call their own will also enhance their general well-being.
Needless to say, a gift of pet furniture will definitely be appreciated and enjoyed by you and your feline friend.
You can also give the gift of cat furniture to a special cat lover in your life.
There are many options available: cat beds, cat condos, unique pet furniture, modern feline furniture, and scratching posts, just to name a few. Below you will find tips and suggestions to help you choose the perfect piece of furniture for your cat.


Cat Fact: Cats sleep an average of 16 hours a day.
Factors to consider when buying cat furniture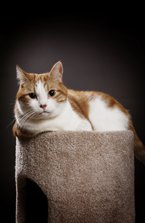 To choose the perfect piece of cat furniture, you need to ask yourself a few questions.
For instance,
What does your cat need?
How much can you spend?
Have you selected a spot in the house where you plan to put this piece of furniture? Do you want to be able to move it around?
Do you want a big or a small piece? How much space do you have available?
Does it need to blend in with the rest of your home decor?

**Nowadays, more and more people are conscious about interior design and spend a great deal of time beautifying their surroundings. Many people prefer beautiful furniture for their pets as well. Fortunately, there is a vast selection of colors and materials to choose from.

Do you want it for an older cat or for a kitten?
Does it have to be easy to clean? If that is the case, you can opt for a machine washable bed.
Types of cat furniture
Cat furniture comes in different sizes, colors, and materials. There is a wide selection of cat condos, cat playgrounds, cat towers, cat beds, and cat gyms to choose from.
Are you looking for a cat house or a playpen? Does your cat need a bed? Or maybe you need to get a travel carrier?
Here are some ideas...
For additional ideas, visit our outdoor furniture page.


Furniture for the active cat
If you have an active cat, you may need furniture that allows your cat to play and which also provides a special spot to relax in.
You may consider a playground or gym, even a cat tree! This versatile furniture will allow your cat to exercise and have fun at the same time. You can find pieces that are made of long-lasting materials. Cat trees and climbing toys should also have plenty of scratching surface.
Consider these:
Cat towers: These are fun and versatile pieces of cat furniture. Kitty towers provide your cat with different sleeping and play areas.
Cat trees are fantastic for cats. If you have multiple cats, having different levels of height helps them define their territories. A cat tree also provides cats with plenty of opportunities to play and exercise. Go to our cat tree page for more ideas.
Cat houses are a great option if your cat spends lots of time outdoors.
Cat gyms provide plenty of fun for your cats!
Cat playgrounds come with different play areas, built-in scratching posts, toys and more.
Cat climbing toys are very similar to the cat tree, and they too provide your cat with plenty of fun.
For the pampered cat...
For the sophisticated kitty, many online stores carry luxury cat furniture. You can find sofas, castles and palaces.
These "designer" pieces of furniture come in different colors, materials and sizes. Before purchasing a piece, make sure it is safe for your kitty.
Also consider unique kitty furniture and modern furniture for cats.
Inexpensive cat furniture
Now, if you don't want to spend too much money, here are some examples of inexpensive furniture your cat will certainly enjoy.
A cardboard box: Cats absolutely looove boxes. You can get a large or small box, depending on your cat's size.
A pillow or cushion: You can get an inexpensive cushion that matches your decor.
A blanket: A folded nice blanket makes a comfortable and inexpensive bed for your kitty.
For tips on where and how to find inexpensive furniture for cats check our cheap cat furniture page. You don't have to spend lots of money to find a good quality piece of kitty furniture.
And if you are looking for something completely unique, visit our unique cat-furniture page for lots of ideas.
If you feel like your kitty deserves a more enchanting piece of furniture, please visit Hidden Hollow- The Ultimate Cat Tree.
Also check out...
The Pet Door Site - Helping you choose the perfect pet door for your home and for your pet.
And finally... Save your own furniture.
Finding cat proof furniture is the dream of most cat lovers. But is there such a thing? I still haven't found it. However, you may try several materials, like microfiber and jute, which might be strong enough to withstand or deter your cat's scratching. These materials combined with training and other techniques (like using Soft Paws) might help save your furniture.
Related links...
Cat scratching posts
Looking for the right cat carrier? Check out this page
Choose the perfect cat bed
Find great cat condos
Cat litter box covers and cabinets
Cat gyms: Multi-function furniture
Leave Cat Furniture and Go to the Home Page of Cat Lovers Gifts Guide