A Cat Book
Makes a Great Cat Lover Gift
A cat book is a great gift idea for cat lovers. You can find cat books
on a wide variety of topics including cat health, cat care and cat behavior. The "cat who books" by Lilian Jackson Braun are very popular and make great gifts, too.




Books about cats make excellent cat lover gifts for cat lovers who:
Want to learn more about cats in general
Want to learn something specific about cats
Love cats and enjoy reading as well!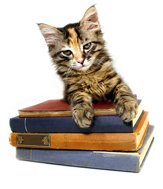 There's always something new to learn about cats, and I'm pretty sure most of your cat-loving friends will welcome a cat book. By the way, you can also find cat ebooks on a wide array of topics.
Important Reminder:
Always consult a vet if your pet is sick or injured. Cat books are great to help you expand your knowledge about cats in general. However, for medical advice and treatment you must consult a veterinarian.


I wish I could write as mysterious as a cat. - Edgar Allan Poe
More on feline books and literary felines.


Cat books: a few gifts ideas
Felines are a favorite subject matter for many authors. You'll find great cat books about the following topics:
Cat Behavior
There is so much to learn about feline behavior. I've always been fascinated by cats' independent nature. Indeed, felines are mysterious, gracious and elegant. Cats are very affectionate and social, too.
And, contrary to popular belief, cats can be trained. Although I must confess I haven't been able to completely train mine!
Felines were domesticated much later than dogs; therefore, they still retain a lot of their independent nature. But, with love and patience they can be trained, let's say, not to scratch your furniture.
If you or your friends have recently adopted a cat or kitten, you might want to know why cats behave a certain way. Certainly, you will need a "cat manual" to guide you.
I have shared my house with two wonderful kitties for a little over 10 years and I'm still learning new things about them. If you too have multiple cats you will enjoy
Cat vs. Cat
by Pam Johnson-Bennett. The author provides a lot of in-depth information about this fascinating topic.
Cat vs. Cat helps you to understand the dynamics among cats that share the same living space. Learn how they define their territories, among many other things. Pam Johnson-Bennett also gives you great tips to introduce a new cat to the family.
The Cat Who Cried for Help: Attitudes, Emotions, and the Psychology of Cats, by Dr. Nicholas H. Dodman, is an entertaining guide to understanding cats. This book provides helpful insights on feline behavior. Dr. Dodman also shares stories from his own practice.
Cat Care
If you or your friends plan to adopt a cat or a kitten, it's important to know the basics of pet care. The best source to obtain this knowledge from is your vet or qualified health practitioner. Having said that, you can always find plenty of excellent cat books and useful written information about the care of cats.
Here are some titles you might like to check: Cat Owner's Home Veterinary Handbook by Delbert G. Carlson, Liisa Carlson and James M. Giffi, and The Complete Guide to Caring for Your Cat by Graham Meadows and Elsa Flint.
Any of these tomes makes a great cat manual.
Cat Health
As I mentioned before, you must consult your vet if your cat is ill or injured. That being said, cat books and articles about cat health help you learn more about the most common feline diseases and how to prevent them. Remember that preventive medicine is the best medicine. To expand your knowledge about cat health you might like Nature of Animal Healing: The Definitive Holistic Medicine Guide to Caring for Your Dog and Cat by Martin Goldstein D.V.M.
Cat Humor
Felines are very funny creatures. Those of us who are owned by cats are always entertained by their antics. Cats have been a favorite subject matter for cartoonists, artists and authors and you will certainly find great cat books on this subject. Cat Chat: Humor for Cat Lovers by Sherry Splaver Rotman is a great example.
Another wonderful cat book is My Name Is On The Deed...But The Cats Own The House. You will enjoy the cat wisdom presented is this humorous tome by Bruce Garrabrandt.
Love cats and sports? A Golfer's Tail chronicles the most memorable year of Roscoe Watkins, the greatest cat golfer and all-species of them all, in his own words. The author is giving 10% of any profits to no-killshelters.
THE CAT MANUAL is a book of humorous advice written for cats, by cats. The author "discovered" the feline world's best-kept secret in a file hidden on his mother's computer by her cat, Cleo, and now shares it with humanity for thefirst time. Topics covered range from avoiding visits to the vet, to the artful display of captured prey, to getting in the way of a human trying to read anything, including this paragraph. Upon publication, Cleo denied authorship and hired a team of lawyers, all of whom have their claws out, but despite her best efforts the word is spreading: THE CAT MANUAL is hilarious for cat-lovers of all ages. From the author of Cave Passages and Dark Life.
Undoubtedly, books about cat humor
make fun cat lover gifts.
Cat Photography
Cat lovers can't resist cute kitten and cat pictures. Cats 24/7, by Rick Smolan and David Elliot Cohen, is a hugely popular cat book. It's filled with tons of wonderful cat pictures. It makes a perfect cat lover gift.
Cat Art
Why Cats Paint: A Theory of Feline Aesthetics and Why Paint Cats: The Ethics of Feline Aesthetics, both authored by Heather Busch and Burton Silver, explore cat art from a very different perspective. You (and the gift recipient) will enjoy a book of cat art
.
Spiritual Wisdom and Inspiration
Cats are sources of inspiration for many people. There are several works out there featuring true stories of extraordinary cats. Zen Cat by Judith Adler and Paul Coughlin brings you lots of cat wisdom. Another great gift idea is Angel Cats: Divine Messengers of Comfort by Allen Anderson and Linda Anderson. A wonderful read, this book is filled with inspirational cat stories.
Mystery novels and true stories...
...in which cats are the protagonists, are another great gift idea. Cats and mystery seem to go together. This is a especially wonderful gift for cat lovers who also enjoy a good whodunit! A great suggestion is The Cat Who books, the popular series of mystery novels by Lilian Jackson Braun. The cat-inspired novels by Rita Mae Brown make great gifts too. Indeed, the feline protagonists of these novels are just a few examples of some of the well-known literary cats. See below for more information.
Cat History
If you want to know more about cat history, you will enjoy When Cats Reigned like Kings: On the Trail of the Sacred Cats by Georgie Anne Geyer. Very informative and a great read.
Cat Breeds
Cat: The Complete Guide by Claire Bessant, Paddy Cutts and Bradley Viner is an in-depth study of cats. This tome is filled with information about cat behavior, nutrition and care. It includes descriptions and unique characteristics of over 120 known cat breeds
. This is a cat book any cat lover will enjoy. Great color illustrations too.
Children's Books
There is a vast selection of cat-themed books for kids. Of course, The Cat in the Hat by Dr. Seuss comes to mind. You might also enjoy: Oh, Cats! (My First I Can Read Book Series) by Nola Buck and Nadine Bernard Westcott (Illustrator). This is especially great for small children who are just learning to read.
Another great idea is The Cat Who Walked Across France by Kate Banks and Georg Hallensleben. A great story about a determined pussycat.
And one of the most popular fantasy books for children is Warriors, a wonderful series about warrior felines.
Cat Poetry
Cats have inspired many a poet. You will find several books about cat poetry. A up-lifting, humor-filled book of cat poems is Purr, by James Servin. Another excellent choice is Cat Poems by Dave Crawley and Tamara Petrosino.
More gift ideas
For a unique gift, consider Cottage Cats: My Companions on the Path to Joy by Kim Jacobs. This beautifully illustrated book will delight any cat lover. You can check the artists' cat-themed note cards, here.
You can also give gifts of works based on literary cats. A popular musical based on literary cats is Cats the Musical. It was based on Old Possum's Book of Practical Cats by T.S. Eliot. For detailed information about this show's cast and production, visit our page about the musical Cats.
As you can see, there are many options available. The gift of a cat book will definitely please any cat lover.
If your friends love cat movies, you can find great gift ideas here


More Book Reviews and Recommendations
Check the links below to learn more about these wonderful cat books.
Purr - A poetry book about cats and humans authored by James Servin.
Bedtime Stories and Poems for Cat Lovers - A delightful collection of cat poems and stories by Pamela and Larry Leónard.
Another wonderful book for cat lovers is A Prophecy of Snow by David R. Myers. It chronicles the adventures of Scratcher, a house cat, and his mysterious friend - a street cat named Jackson. You can order it on on Amazon or at Barnes and Noble.
Missy's Midnight Caper: a book by Rosa Bjarnason Kontogianni & Paul Bjarnasonthe tells the story of an adventurous lady cat who plays the accordion and sings at midnight for her friends at the Cafe des Animaux (Cafe of the Animals).
Who Moved My Mouse? A Self-Help Book for Cats (Who Don't Need Any Help by Dena Harris is a hilarious book every cat owner (and cat) needs to read.
Nikki's Hurricane Adventure by Kevin and Laura Sanchez tells the story of Nikki, an adventurous and courageous kitty who was separated from her family when Hurricane Gustav struck their city. Read about her journey and her miraculous reunion with her family.


Here's a partial list of some famous literary felines
Literary cats abound. They appear in novels, short-stories, and even songs. Here's a very brief list.
Dr Seuss' The Cat in the Hat.
The Cheshire cat, immortalized in Alice's Adventures in Wonderland by Lewis Carroll.
Dinah, Alice's cat in Through the Looking Glass also by Lewis Carroll.
Edgar Allan Poe's short-story "The Black Cat" (A Study of the Psychology of Guilt)
"The Cat that walked by Himself" by Rudyard Kipling
Crookshanks, Hermione's cat in the Harry Potter series.
We must also mention the "The Cat Who…" series of mystery novels by Lilian Jackson Braun.
Who can forget, Puss in Boots? by Charles Perrault (this folktale was originally compiled by Gianbattista Basile)