Cat Collectibles
a special treasure for cat lovers
The beauty of giving a gift of cat collectibles is that it doesn't matter whether the gift is for a seasoned collector or for a beginner, the gift of a cat collectible is sure to be welcomed and appreciated.




Another wonderful thing about giving cat-inspired collectibles is that there is a wide variety of items to choose from. For example, you can collect: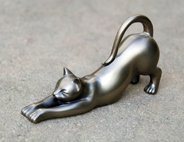 Also see below for a list of additional cat-themed collectibles.
You can certainly find collectibles to delight any cat lover. Furthermore, you need not spend large sums of money, you can find affordable items that are also unique.
Cat collectables are indeed a wonderful gift for the cat-loving collector, and for any cat lover for that matter. In this section you will find great gift ideas and an interesting array of cat-related items you can give.
You will also find ideas to help you select the perfect cat collectible. Suggestions include: choosing a theme, tips on collecting, types of collectibles, general vs. specific collecting, and how to display your treasures.
Let's begin.
Starting out
You can effortlessly start your own unique collection of cat-themed items or help your cat-loving friends start one. It is easy and you don't have to break the bank. Online auctions, street fairs and flea markets allow you to find a wide variety of cat collectibles, at an affordable price. You can even find hard-to-get items such as antiques or vintage memorabilia.
Before starting, consider these factors:
Choosing a theme
Most collectors prefer to choose a theme. Choosing a theme will help you focus, and it will make it easier for you to find what you are looking for. For example, you and your cat-loving friends can start a collection of items related to a specific theme, such as cartoon cats, cat-inspired clocks, cat glass figurines, or Garfield related items.
If you like cartoon cats or enjoy anything that has to do with art, you can explore these options. It is very easy to find cartoon cat memorabilia. Cat art is also extremely popular these days, so you can find an interesting array of posters and prints to please most tastes and fit most budgets.
General or specific?
There are different types of collectors. A casual collector, for example, collects from time to time. And as the name implies, a casual collector does not make collecting a very methodical endeavor. Casual collectors might like to focus on a general area of interest. For example, he or she might want to collect cat glass figurines. Sometimes, a casual collector might be more specific and will only collect miniature glass figurines, for instance.
A general collector will collect any type of cat item. For example, she might collect cat-themed chimes, plush toys, prints, and so on. A general collector might also collect a specific type of collectible without focusing on a particular characteristic. For instance, he might collect any type of cat glass figurines regardless of brand or style.
A "completist", on the other hand, will want to complete an entire collection of a particular theme. Of course, this will depend on whether a collection of items related to a chosen theme can be completed or not. For example, let's say that your friend loves Felix the Cat and wants to collect all Felix the Cat's movies. He would be considered a completist.
Completists might also want to expand their collection and include related items. In the Felix the Cat example, a completist might also want to collect Felix the Cat memorabilia, figurines, clocks, etc.
A completist might also focus on a period of history or a particular brand.
Hopefully, this information will help yo decide whether you want to collect more general cat related items or complete a collection on a specific topic. Also, knowing if the gift recipient has a special area of interest will help you narrow your search.
Helpful tips
Here are some additional pointers to keep in mind when starting a collection of cat items:
-- Decide how much money you are willing to spend. Having a spending limit will help you stay within your budget.
-- Is the gift for a woman, a man, or a child? Take this into account when choosing collectibles.
-- If you or your friends are really serious about collecting, read books on the subject and/or subscribe to an authoritative newsletter or e-zine.
There are different types of cat collectibles
In addition to choosing a theme, you can also decide if you want to collect a specific type of cat collectible. For example, if your theme is Garfield, then your type of collectible might be plush toys of Garfield. Or if you don't want to choose a theme, you can narrow your search by choosing a unique type of collectible.
Here's a list of some cat collectibles to help you get started. You can come up with more and better ideas:
Cat yard art items, such as cat statues or metal sculptures for the garden.
Cat themed cookie jars. This is a fun idea and very practical too. Cookie jars are the perfect storage for cat and human treats!
Cat pins. You can find real treasures and you don't have to spend that much!
... You get the idea. If you love cats, you will find something that will delight you and your cat loving friends. Enjoy the process of selecting a unique cat collectable.
Again, cats are so popular these days that you can find a wide selection of cat collectables to choose from. If your friends are serious collectors, you already know what they want. Finding the perfect gift will be easier. If your friends are just starting out, here's a list of popular items to help you in your search.
Popular types of collectibles:
Also consider:
Clocks
Picture Frames
Candle Holders
Cat Bookends
Doorstops
Cat Banks
Christmas Ornaments
Displaying your treasures
You can designate a special spot in your home where you would like to display your treasures.
You can find beautiful curio cabinets to match your home décor. If your or your friends are just starting out and don't want to spend on a curio cabinet, you can use a side or console table to display your treasures. You can also get one of those mini-cabinets that don't occupy too much space.
If you are collecting other types of cat collectibles (such as artwork or clocks) decide which place in the house will be most appropriate to show your newly acquired treasure.
"The joy of collecting lies generally in finding an item that appeals to the collector's aesthetic, historical, or personal sensibilities. . . But the joy is magnified when the item has a value beyond the intrinsic – when it teaches us something we didn't know." - Alan Dershowitz
To learn more about collecting...
...You might enjoy the following books on cat collectibles and collecting:
Collectible Cats: An Identification & Value Guide (Collectible Cats Bk. II) -- by Marbena Jean Fyke
Cat Collectibles -- by Pauline Flick
To Have And To Hold: An Intimate History Of Collectors and Collecting -- by Philipp Blom.
Cultures of Collecting -- by Roger Cardinal.
Cabinets of Curiosities -- by Patrick Mauries.


Looking for more gift ideas? Check below


Kitschy Katz - Unique Cat Collectibles

Cat Necklaces for Cat Lovers and Cats

Cat Scratching Posts

Whimsical Cat Cookie Jars

Lucky Cat Figurines


Leave Cat Collectibles and Return to Home Page