Kitschy Katz
Love cats? You will love these Katz

For the sophisticated cat lover, Kitschy Katz figurines make the perfect gift. These unique collectibles are great to celebrate any special occasion, including birthday, housewarming, or Christmas.




And best of all, there is a Kat for everyone. There is Salt and Pepper, simple and evocative. There is the cheery and vivacious Sunflower. And there is Cinnamon, elegant and sweet.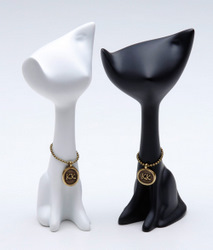 There is Dotty, happy and funky, and Copper, sleek and shiny… and three more. Certainly, you'll find the right Kat for that special cat lover. Or better yet, get them the entire collection!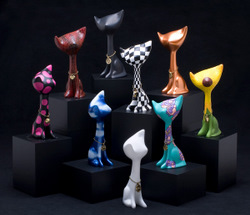 Meet the Artist
Ken Wong, the creator and designer of the Kitschy Katz collection, is an accomplished professional photographer and designer in the Southern California's South Bay area.
Born and raised in Phoenix, Arizona, he graduated from Arizona State University with a business degree. Ken then moved to California to obtain a Bachelor of Arts degree in photography from Art Center College of Design in Pasadena. Upon graduating he opened his own photography studio in the Los Angeles area in 1981.
Though he enjoyed a 20-year professional career, Ken wanted to combine the love of working with his hands with his acquired appreciation of art from his photography and design experience.
The idea of Kitschy Katz came from discussions he had with a fellow artist who sold cat paintings. And after several designs, Ken finally created his ideal model: a Kat that embodied an art deco design with the elegance and lines of the feline form. Shortly after, Salt and Pepper - the first two Kitschy Katz - were born.
Ken's continual creative drive led to seven more Katz to complete "The Original 9" series. He plans to ultimately grow the Kitschy Katz family to 101.
Ken's fanatical attention to detail ensures that each of his creations is reproduced to the exact design of the originals, and lovingly hand-painted to provide you with a unique, quality product that you will treasure for years to come.
Ken can be reached at 877.KATZ.101 or www.kitschykatz.com.
More Gift Ideas
You'll enjoy your visit to www.kitschykatz.com. And while you're there check out the other amazing Kitschy Katz creations: Antenna Toppers, Key Chains, Charms, and Posters.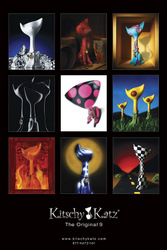 Note: Images and Meet the Artist information are the copyright of Ken Wong and kitschykatz.com. They have been used with permission.

Leave Kitschy Katz and return to Cat Figurines

Return to the Home Page of Cat Lovers Gifts Guide