About this Site
and how to contact us
Welcome fellow cat lovers! I'd like to tell you a little about this site. My name is Claudia and I'm the publisher of cat-lovers-gifts-guide.com.


Mia and Max
| | |
| --- | --- |
| | |
| This is Mia sitting pretty in one of her favorite chairs. | This is Max celebrating Christmas 2004. Soft and cuddly. |
I am the human companion of Max and Mia (pictured above), my (and my sister's) precious kitties. Actually, I think of myself as their mother. Anyway, I am a cat lover and I also have many cat loving friends.
I love all cat-related things so I'm always seeking feline-related information, and looking for the latest cat item.


Mia (1998-2010)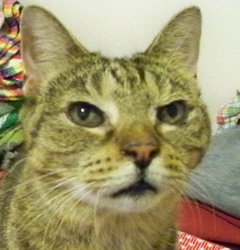 Our beloved cat Mia passed away peacefully on October 9, 2010 during the early hours of the morning. She was surrounded by my sister and I (her two mommies) and other members of her family, including her brother Max.
With her, she took a piece of our hearts. She filled our lives with love, sunshine and so much joy. Mia was wise and courageous and inspired us all. We already miss her terribly, but we know she is at peace in kitty heaven. We will always remember her with love and a smile on our faces.
This site is dedicated to her memory.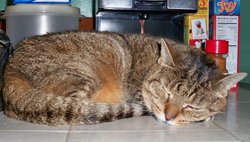 Why I built this site
As I mentioned above, I have many cat-loving friends and I love giving them cat-inspired presents. Indeed, I love all things cat and I'm always on the lookout for unique cat-themed items. Naturally, this interest evolved into this website.
My purpose in creating cat-lovers-gifts-guide.com was to share my ideas and findings with other like-minded people and with those who are looking for cat lover gifts.
I also wanted to present all these ideas and findings in one place. I know that with so many cat sites out there, finding the perfect cat lover gift can be an overwhelming task. So, I decided to start a cat lover gifts guide to help those of you who love cats and/or are looking for gifts for cat lovers.
I've tried my best to present accurate information on this site. If, however, you come across any errors I apologize in advance and please feel free to let me know.
If you're looking for cat gifts, I hope you find this site helpful.
Thank you for stopping by.


Note about images: The images on this site come from the following sources:
Stock agencies: Some images come from istockphoto.com, bigstockphoto.com, dreamstime.com, and pixmac.com. I have acquired a standard license and permission to show these pictures on my site. The photographers/artists and the stock agencies mentioned before retain the copyright to such works.
Independent photographers/contributors. I have also used other pictures with the permission of the photographer/contributor and such pictures are properly credited to the photographer who retains the copyright.
Affiliates. These images are provided by affiliates and you can purchase them directly through their sites. Click here to read our affiliate disclosure.
My own pictures. You will also find the pictures of my own cats: Max and Mia.


"Happiness is like a cat. If you try to coax it or call it, it will avoid you; it will never come. But if you pay no attention to it and go about your business, you'll find it rubbing against your legs and jumping into your lap." - William Bennett
Contact this Site
If you would like to share ideas, comments, and suggestions, or have any questions about this site, please feel free to contact me. I will never share your e-mail address with anyone.
Click Here to Leave the About this Site Page and Return to Home Page