Quotes about Cats
Enjoy reading quotes about cats? I do too. Cats seem to capture people's imaginations like no other animal (except dogs, I think).
And it seems like the felines in our lives make us ponder about life and other philosophical questions. They have that kind of power.
You can find so many cat quotes out there that it would take an entire website (or more) to put them all in one place. But here's a small, yet fun, collection of quotes about cats and kittens that are sure to delight any cat lover. So sit back and enjoy...
Oh cats...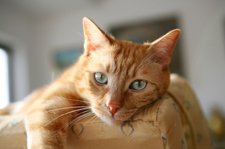 All cats, given the opportunity, are people-watchers. –Roger Caras, A Cat is Watching, 1989
Cats are notoriously sore losers. Coming in second best, especially to someone as poorly coordinated as a human being, grates their sensibility. –Stephen Baker
It occurs to me that I can't remember ever reading about a murderer who gave house room to, or was fond of, a cat. –P.D. James Time to Be in Earnest, 1999
I have found my love of cats most helpful in understanding women. –John Simon
Cats are absolute individuals, with their own ideas about everything, including the people they own. - John Dingman
I have just been given a very engaging Persian kitten… and his opinion is that I have been given to him. – Evelyn Underhill
Cats are connoisseurs of comfort. –James Herriot
Everyone who owns a cat is a cat-watcher. –Roger Caras, A Cat is Watching, 1989
Getting a cat is a greater commitment than getting married. – Seymour and Paula Chwast
God made the cat to give man the pleasure of stroking a tiger. – François-Joseph Mery
Anyone who has owned many cats in long succession can define his or her life as a series of furry episodes. –Roger Caras, A Celebration of Cats, 1989
Two things are aesthetically perfect in the world - the clock and the cat. – Emile Auguste Chartier
Cats seem to go on the principle that it never does any harm to ask for what you want. – Joseph Wood Krutch
Cats don't like change without their consent. - Roger Caras
Cat said. "I am not a friend, and I am not a servant. I am the Cat who walks by himself." –Rudyard Kipling, Just so Stories, 1902
Cats never strike a pose that isn't photogenic. –Lillian Jackson Braun
The cat is not in the long run anxious to please. –T.O. Beachcroft, Just Cats, 1936
It's very hard to be polite if you're a cat. - Anonymous
Cats find humans useful domestic animals. –George Mikes
As we all know, cats now rule the world. - John R.F. Breen


Did you enjoy these quotes about cats? Then please read on for more… It seems like everyone has something to say about cats. Felines make us think so deeply… sometimes.
More quotes about cats
As every cat owner knows, nobody owns a cat. – Ellen Perry Berkeley
If cats could talk, they wouldn't. - Nan Porter
Cats are cool. They have style, personality, sophistication, and just the right amount of confidence. – Michael Bolton
In truth, most of us don't know our cats. – Elizabeth Marshall Thomas
The reason cats climb is so that they can look down on almost every other animal - it's also the reason they hate birds. – K. C. Buffington
A cat is like a puzzle with no solution. – Anne Campbell
If a cat washes her face, there will be visitors. - Japanese folklore
Whether they be the musician cats in my band or the real cats of the world, they all got style. – Ray Charles
Time spent with cats is never wasted. – Colette
To bathe a cat takes brute force, perseverance, courage of conviction - and a cat. The last ingredient is usually hardest to come by. - Stephen Baker


Need to find something? Use the search box below.





Related topics


Cat quotes galore

Funny cat quotes

Moggy cats - quotes and facts

Facts about cats

Cat lore and legends

Well-known cat sayings


Leave Quotes about Cats and return to Cat Quotes

Return to Home Page