Cat Quotes
Cat quotes are filled with wit and wisdom. Cats, many would agree, are very philosophical creatures. Indeed, cats have a very particular view of the world. They live by their own rules, that's for sure.
If you are looking for cat quotations, here's a collection of interesting quotes about our furry friends. Some are funny, some have some truth in them, some are puzzling… I'm sure you will find a rare pearl of wisdom among them. Enjoy!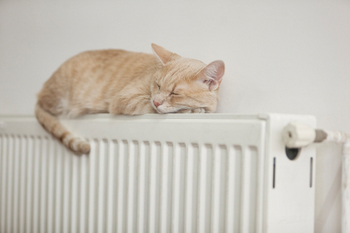 In ancient times cats were worshiped as gods; they have not forgotten this. ~ Terry Pratchett
They say the test of literary power is whether a man can write an inscription. I say, "Can he name a kitten?" ~ Samuel Butler
A catless writer is almost inconceivable. It's a perverse taste, really, since it would be easier to write with a herd of buffalo in the room than even one cat; they make nests in the notes and bite the end of the pen and walk on the typewriter keys. ~ Barbara Holland
Why must I feel like that? Why must I chase the cat? ~ George Clinton
The cat could very well be man's best friend but would never stoop to admitting it. ~ Doug Larson
Where the hell are the singing cats? ~ Paul Newman to David Letterman
The problem with cats is that they get the exact same look on their face whether they see a moth or an axe-murderer. ~ Paula Poundstone
When I played in the sandbox the cat kept covering me up. ~ Rodney Dangerfield
Your cat will never threaten your popularity by barking at three in the morning. He won't attack the mailman or eat the drapes, although he may climb the drapes to see how the room looks from the ceiling. ~ Helen Powers
Never wear anything that panics the cat. ~ PJ O'Rourke
I had been told that the training procedure with cats was difficult. It's not. Mine had me trained in two days. ~ Bill Dana
Subliminal kitty messages? "You are getting very sleepy" is not a command when said to a cat; it is an eternal truth. ~ Ari Rapkin
A dog, I have always said, is prose; a cat is a poem. ~ Jean Burden
The cat is the only animal without visible means of support who still manages to find a living in the city. ~ Carl van Vechten
If you yell at a cat, you're the one who is making a fool of yourself. ~ Unknown


More cat quotes
There's no need for a piece of sculpture in a home that has a cat. ~ Wesley Bates
Two cats can live as cheaply as one, and their owner has twice as much fun. ~ Lloyd Alexander
There is no more intrepid explorer than a kitten. ~ Jules Champfleury
Are we really sure the purring is coming from the kitty and not from our very own hearts? ~ Terri Guillemets
Cats were put into the world to disprove the dogma that all things were created to serve man.~ Paul Gray
The cat is the only animal which accepts the comforts but rejects the bondage of domesticity. ~ Georges Louis Leclerc de Buffon
Kittens are angels with whiskers. ~ Author Unknown
To err is human, to purr is feline. ~ Robert Byrne
Like a graceful vase, a cat, even when motionless, seems to flow. ~ George F. Will
No heaven will not ever Heaven be
Unless my cats are there to welcome me.
~Author Unknown
Dogs eat. Cats dine. ~ Ann Taylor
People who love cats have some of the biggest hearts around. ~ Susan Easterly
People that don't like cats haven't met the right one yet. ~ Deborah A. Edwards


More quotations about cats
If you enjoyed this collection of cat quotes, please visit the following pages.
Famous feline quotes - Fun cat quotations by famous people.
Fun cat quotations - More snippets of feline wisdom.
Funny cat quotations - Need a laugh? This page is filled with funny feline quotes.
More feline quotes - More sayings and quotations about our four-legged companions.
Quotations about cats - Quotes inspired by our feline friends.
Quotes about cats - Tidbits of feline wisdom.


Looking for something else? Please use the search box below.





Related Pages

Cat sayings

Cat lore

Cat myths and legends


Leave Cat Quotes and Return to Cat Quotes Main Page

Return to the Home Page of Cat Lovers Gifts Guide