My Name Is On The Deed...
But The Cats Own The House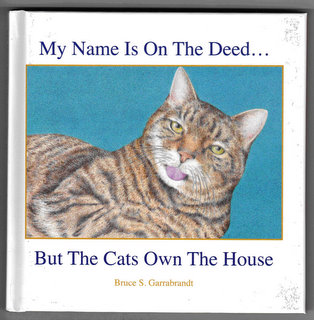 My Name Is On The Deed But The Cats Own The House...
That's the title of this wonderful and humorous cat book. A title that rings true to many cat lovers out there.
So if you are looking for a fun gift for that special cat lover on your list, get this book. It is filled with pearls of cat wisdom and beautiful (albeit hilarious) pictures of cats.
Here's some background information from the author, Bruce Garrabrandt.
In His Own Words
Last December, our good friend Ruth was gravely ill, flirting with death several times—but always rallying. My wife Jan wanted something small to take to the hospital, a gift that would make Ruth smile and lift her spirits.
"She loves your art," Jan said to me, "—and she loves cats. You should create a cat book and dedicate it to her."
An idea was born! Soon guests to our Lancaster County inn were contributing drawing suggestions, sending me funny photos of their cats, and offering clever picture titles. My four felines alone provided a wealth of resource material and inspiration for the project.
I parked myself at the easel from January through May, creating whimsical, colored pencil artwork for the book (My wife complained that, for the first five months of 2009, she only saw the top of my head). Our cats pretty much wrote the text—I just acted as their stenographer.
The finished product was published in October, and Ruth--shown below, now fully recovered--is delighted with the gift book.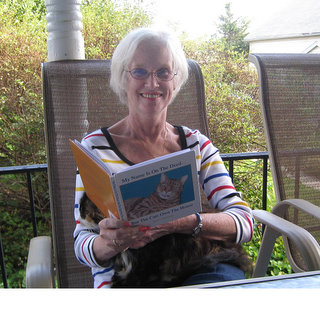 A great cat lover gift
This 60-page hardcover gift book is a playful tribute to cats, fully illustrated with whimsical drawings by the author. Text includes 21 Paths to the Purrfect Life, 5 Requests From Your Cat, and 10 Common Facts Every Cat Knows.
$12.95 (plus $4.95 flat-rate shipping—no matter how many books are ordered)
To order: http://www.artbybruce.com. Or phone toll-free, 717-445-0219.



Leave My Name Is On the Deed but The Cats Own The House and return to Cat Book

Return to the Home Page of Cat Lovers Gifts Guide