Purr - Poems about Cats
a review
Poems about cats will warm your heart. Do you have a favorite cat poem? Here you will find a review of a wonderful cat poetry book by James Servin.


Purr
Can a book of cat poetry inspire you? The answer is a flat-out yes. Purr, a compilation of cat and "human" poems, will do just that.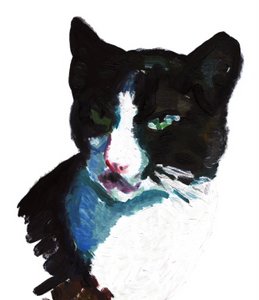 In fact, Purr will do more than inspire you. It will encourage you to savor the companionship of our beloved feline friends, it will rekindle the passion for life's simple delights so many of us have lost, it will bring a ray of hope into our lives, and it will help you rediscover the joy of living.
Cats can transform and enliven our lives in so many ways. As narrated by author James Servin in the first part of his book, cats become a source of faith and healing. They become teachers and philosophers who through their eternal snoozing, elegant stretching, and lazy ways show us how to really live in the present moment.
After the tragic events of September 11, Mr. Servin turned to his family of cats for solace. Purr is the result of his peek into the Zen-like world of his cats. Melanie, Andy, Toby, and Moses helped Mr. Servin to find comfort and peace in a turbulent world. Purr's poems about cats are whimsical, full of humor, and true reflections of life with cats.
One of my favorite cat poems is the one in which the author wished he could change places with his cat (pg. 19). Not surprisingly, I've had the same dream! What can be better than taking catnaps and living life at a slow, delicious pace?
Cats in the Machine (pg. 31), in which cats seemingly manage to change the author's computer settings, had me laughing out loud. My cats too love playing around with my computer. But the real question the story raises is: What do our cats do when we're away? That is an intriguing question, indeed.
The Human Parade
Watching humans can be as interesting as watching cats. The second part of Purr - the Human Parade - follows the comings and goings of New Yorkers. Here the cast of characters is as diverse and colorful as the city itself. You will enjoy walking the streets of the big city, exploring delis and supermarkets, and rediscovering the adventures of taking a cab ride.
If you are a cat lover, you will relate to many of the poems about cats and stories shared in Purr... Cats see the world through different eyes. They dance to their own rhythm. Immerse yourself in the world of Purr and start enjoying life's simple pleasures.
About the author
James Servin, a New York-based journalist, is the features editor of BlackBook magazine. His work has appeared in Martha Stewart Living, Page Six Magazine, and Vogue Living.






Related Links

More cat poems

Cat Book - My Name Is On The Deed But The Cats Own The House

Literary Cats

Literary cat names

Magical cat names


Leave Poems about Cats and return to Cat Books

Return to the home page of Cat Lovers Gifts Guide