The Perfect Cat Bed: Sweet Dreams!
A high-quality cat bed is important for your kitty's well being.




Yes, cats will sleep anywhere, especially in your bed or favorite chair. However, it is a good idea to have a bed for your cat. Maybe he'll get to like it more than your bed!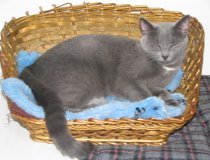 Cats sleep an average of sixteen hours a day. They really enjoy those catnaps! That's why it's so important to provide your cat with a nice spot to relax in.
The good news is that you can find high-quality beds at affordable prices. Needless to say, a high-quality cat bed makes a great gift for both your feline and cat loving friends.
You cannot look at a sleeping cat and feel tense. - Jane Pauley
Finding the perfect pet bed for kitty
So you've decided to buy kitty a nice bed, just for him. But the question remains, how do you pick the perfect bed for your cat?
In my humble opinion, the right cat bed should be:
comfortable
durable
easy to clean
safe
Also, for your aesthetically inclined friends you can find cat beds that are pleasing to the eye.
Tips and Suggestions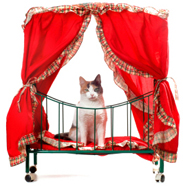 To help you find the best bed for you furry friend we share with you some tips to keep in mind during the selection process.
Consider the needs of your cat
When looking for the perfect bed for your cat (or your cat loving friend's cat), ask yourself:
What does my cat need? Remember that it all depends on what he or she needs.
Is your cat young or old?
Is she a kitten?
Does she have a special need due to health problems?
Consider other types of cat furniture
If you have a very active cat, she may enjoy a cat house, a cat condo or even a cat tree. These pieces of furniture are great not only to nap in, but also to play in.
Most cats prefer to sleep in high places. In this case, your kitty may enjoy a cat tree instead of a traditional bed. This type of furniture usually comes with sleeping trays.
These multi-purpose pieces of furniture are also a good idea for households with multiple cats.
Location, location, location
A good idea is to designate a special spot in your house to put your pet's bed. You might like to consider a place with little or no foot traffic. Many cats prefer enclosed spaces. Indeed, most cats favor quiet nooks and corners.
There are always exceptions to the rule, of course. One of my cats enjoys lying in the middle of our living room. He truly enjoys the attention!
Also, knowing how much space you have available to place the bed will help you during the selection process. Fortunately, feline beds come in different sizes.
Keep in mind...
Choose cat beds that are made of washable and strong materials. A well-made bed will last you longer and it will be safer for your cat. Also, the bed you select should be easy to keep clean.
There are different types of beds
Enclosed beds: As I said before, many cats prefer to sleep in covered, enclosed spaces. A cat cave is an excellent choice if your cat favors quiet and secluded spots. A cat cave provides privacy and security. You can find beds of this type that are affordable and of excellent quality.



Thermo Crinkle Sak Heated Pet Bed
From: CatsPlay.com Cat Furniture
Cat Cushions: One of the most popular types of bed. Many of these beds are easy to clean and store. A cat cushion will certainly delight your cat.



Faux Fur Pet Pillow
From: CatsPlay.com Cat Furniture
Cat Mats: Great for your kitty to relax in and easy to move around. This type of bed is also easy to keep clean.



Waffle Pet Bed (as seen on Martha Stewart Show)
From: CatsPlay.com Cat Furniture
Cozy Beds: Soft and cuddly (see heated beds below for more info). This is a great idea for those long and cold winter days. Your cat will love it!



Heatable Cat Bed
From: CatsPlay.com Cat Furniture
Luxury Beds:
Do you have a pampered kitty? Do you want your cat to live in style?
For the pampered cat, many online stores offer a wide selection of luxurious, designer cat beds. These pieces are stylish, sophisticated and comfortable.



Pastel Diva Dome Pet Bed
From: CatsPlay.com Cat Furniture
Heated cat beds:
These are also perfect for the wintertime and if your place tends to get too cold.
I hope these ideas help you find the right bed for your furry baby.
Additional tips
Consider a window perch with a built-in sleeping tray. Kitty will love watching those squirrels in between catnaps.
For easy cleaning, consider a washable cat bed. You can also find beds with removable covers, which you can easily wash.
Homemade pet beds
Cats love cardboard boxes, and these make inexpensive makeshift beds. My cats especially love those boxes where they can barely fit in. What a great idea for no-cost cat bedding!
An alternative to the cardboard box is to use a wicker basket. Place a soft blanket or mat and you have an instant bed. Your cat will love her wicker cat bed.
You can also convert an old cushion or pillow into a cozy bed for your cat.

What if your cat doesn't like his new pet bed?

You can place an old piece of your own clothing or blanket in his new bed. The familiar aroma might encourage your cat to use the bed. Also try placing cat toys in the bed. You may also sprinkle a little bit of catnip over the bed to make it more attractive.

If your kitty favors a particular place and/or piece of furniture (such as your bed or sofa), then place the bed close by. That way he will adapt more easily to his new bed. If you want, you can move your cat's bed to a new location once he gets used to his new sleeping arrangements.


Leave Cat Beds and Return to Cat Furniture

Return to Home Page