Large Domestic Cats
Many cat breeds produce large domestic cats. But not all large cats are purebred.




Case in point, my cat Max is a non-purebred domestic tabby cat and he's larger than your average cat. At some point, he weighed almost 23 lbs. Now he's lighter (around 20 lbs). Max's sister, Mia, weighs around 16 lbs (she lost some weight, too). By comparison, an average cat weighs between 9 and 11 lbs.
And it's not only that they are heavier than an average cat, but their bone structure is larger, and they're taller, too.
Some of my friends think that maybe one of their parents belonged to one of the large cat breeds. I have no knowledge of this and no way to find out. They're just the cutest cats!
So what are the "big cat" breeds?
The following are some of the large domestic cat breeds:
Maine Coon - This is considered to be the largest of all domestic cat breeds. They can weight a little over 20 lbs.
Norwegian Forest - A native to Northern Europe, this is another full size kitty.
Ocicat - Because of its wild look, many people think this is a hybrid breed. In fact, the Ocicat is a full domestic cat.
Ragdoll - This cat breed is big and sweet. The Ragdoll is one of the mellowest of all domestic cats. They make wonderful family pets.
Ragamuffin - These kitties are large too. The Ragamuffin is another good-natured and people-oriented cat. Needless to say, Ragamuffins make great pets.
Pictures of large domestic cats
Here are a couple of pictures of my cat Max. He's bigger in person!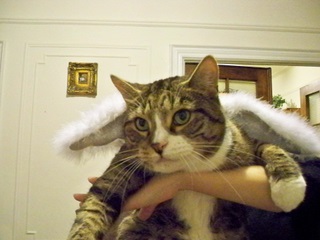 In the picture above, Max is dressed up as an angel for Halloween 2009.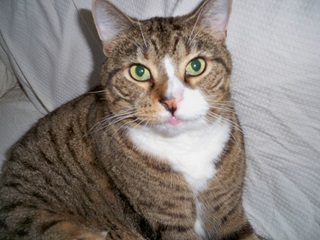 Here's Max relaxing in our comfortable sofa after a long day.


Goliath the Cat
Big and cuddly...
Is your cat one of the "big cats"? Maybe you have a Maine Coon or a Ragdoll? Did you adopt him/her when he was already grown or as a kitten? Where you surprised by his/her size? Share your story. Just fill out the form below.


Do you have a large cat?
Share with us how you came upon your large kitty. Is he/she of a particular breed? You can also share his/her picture!
What Other Visitors Have Shared
Click below to see contributions from other visitors to this page...

Related Pages

Choose the perfect cat breed for you

Learn all about the Ragamuffin cat


Leave Large Domestic Cats and return to Cat Types

Return to the Home Page of Cat Lovers Gifts Guide