Big Feet
by Claudia - Admin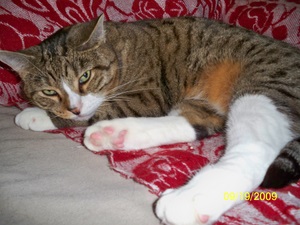 Max
This is a picture of Max, one of my two tabbies. He's a tall and big kitty. Last I checked, he tipped the scales at 18 lbs (after a rigorous diet). When he was younger, he reached 22 lbs.

He, and his sister Mia, just turned 12 years young. Indeed, they think they're still kittens. Well, it is partly my fault. I still treat them like my little babies. Because they are!


Join in and write your own page! It's easy to do. How? Simply click here to return to Big Cats.