Maximillion (possibly Maine Coon Mix)
by Nancy
(Toronto, Ontario)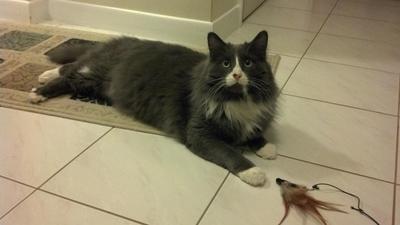 Hi,

We adopted Max from the Humane Society. He's 2 1/2 years old, 22 lbs, has tuffs on his feet, and ruff around his neck.

Max has dog like qualities, follows you around the house, loves to sleep with you at night, and loves to play. He's a very gentle soul, never bites.

Max loves his belly rubs and to sit where ever you are in the house.

Max is such great company, our family loves big cats!