Japanese Cat Names
Japanese cat names make a great choice if you are looking for an original cat name. What is a good Japanese name? That depends on what you're looking for.




You can find short names, long names, cute names, and more. Japanese names have a unique beauty in and of themselves. But they become even more special once you know their meaning.
Take a look at the list below (each name is followed by its meaning in Japanese), maybe you find the perfect Japanese cat name for your kitty.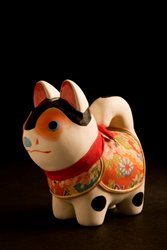 Japanese cat names for girl cats
Aiko – Love child
Aimi– Lovely beauty
Amaya– Night rain
Asami – Morning beauty
Aya – Colorful, design
Ayaka – Color-flower
Chie - Wisdom
Chika – Scattered flowers
Cho - Butterfly
Eiko – Eternal child
Emi – Beautiful blessing
Eri – Blessed gift
Haruki – Springtime tree
Hideko – Splendid child
Hikari - Radiance
Hiromi – Abundant beauty
Hoshi - Star
Hotaru - Firefly
Kei – Blessed, lucky
Keiko – Blessed child
Kyoko – Child of the city
Mai – Dance
Masako – Elegant child
Mi – Beauty
Michi – Pathway
Midori – Green
Miki – Beautiful princess
Naoko – Esteemed child
Nori – Ceremony, regalia
Noriko – Law child
Rei – Spirit
Reiko – Lovely child
Ryoko – Bright child
Saki – Blossom
Sayuri – Lily
Sora – Sky
Yoko – Sunny child
Yori – Public servant
Yoshie – Beautiful river


Japanese names for male cats
Akihiko – Bright prince
Akihiro – Big glory
Akira – Bright
Dai – Great
Daiki – Great glory
Daisuke – Great helper
Hideki – Splendid opportunity
Hideo – Splendid man
Hiroki – Abundant joy
Hiroshi – Generous, prosperous
Hisashi – Long-lived
Hisoka– Reserved
Ichiro – First son
Isamu – Courage
Isao – Honor, merit
Jiro – Second son
Jun - Obedient
Juro – Tenth son
Katsumi – Self-controlled
Katsuo – Victorious child
Katsuro – Victorious son
Ken – Healthy, strong
Kenji – Healthy son
Kin – Gold
Kioshi – Pure
Koji – Shining second son
Kuro – Ninth son
Makoto – Sincere, true
Masaaki – True brightness
Masaki – Flourishing tree
Michio – Man in the right path
Minoru – Truth
Mitsuo – Shining man
Nao – Docile
Nobu – Faith
Norio – Man of law
Shin – Belief
Shiro – Fourth son
Sho– To fly


Unisex Japanese names for cats
Aki – Autumn, bright
Akira – Bright, clear
Aoi – Blue
Haru – Sun, sunlight
Hikaru – Radiance
Hiro – Abundant
Hisoka – Reserved
Kaede – Maple
Ko – Happiness
Kohaku – Amber
Kou – Happiness, peace
Kyo– Apricot
Madoka – Circle, flower
Masa – Correct, splendid
Masumi– Clarity
Mitsuru – Full
Naoki – Docile tree
Nobu -Faith
Shig – Luxuriant
I hope you enjoyed going through this list. Maybe you will find the right Japanese name for your cat? I'll be adding more Japanese cat names, so keep checking back. And for more additional cat name inspiration, check the links below.


Related Links

Asian cat names

Oriental cat names

Bengal cat names

Egyptian cat names

Irish cat names for lucky cats

Hello Kitty and friends

Lucky cat figurines

Japanese lucky cats


Leave Japanese Cat Names and return to Cat Names

Return to the home page of Cat Lovers Gifts Guide