Silly Cat Pictures
Need some cheer? Take a look at the silly cat pictures presented here. They will surely make you smile.
Cats are funny creatures. Despite their innate elegance and sophistication, they have a silly side. They make unannounced funny faces, they are easily ruffled by the sudden appearance of a fly, they strike hilarious poses, and they make fools of themselves quite easily (of course, they will never admit to that). Silly cats are just an endless supply of entertainment.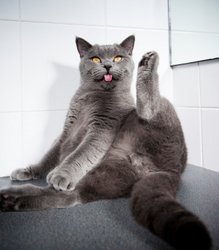 If you are looking for a funny cat gift, consider the items shown below. They make humorous and affordable gifts for cat lovers.


A kitten is the most irresistible comedian in the world. Its wide-open eyes gleam with wonder and mirth. It darts madly at nothing at all, and then, as though suddenly checked in the pursuit, prances sideways on its hind legs with ridiculous agility and zeal. ~ Agnes Repplier
Pictures of Silly Cats
The following pictures are brought to you in association with zazzle.com.


After Lunch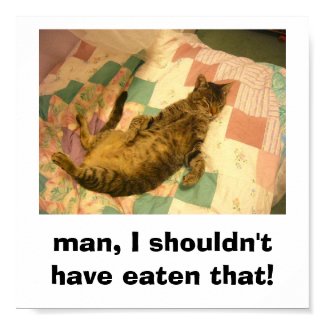 silly cat picture
by
amandabeckham
Browse other
Joke Posters
Don't think that I'm silly for liking it, I just happen to like the simple little things, and I love cats! ~ Michelle Gardner
Mr. and Mrs. Cat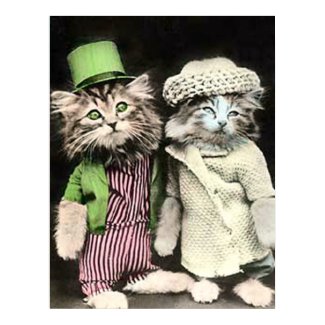 Mr and Mrs Cat
by
TNMgraphics
Join one of the largest
artist affiliate programs
There are many intelligent species in the universe.
They are all owned by cats. ~ Author Unknown
Funny Cats
Silly cats
by
gotemily
sell my posters online
at Zazzle.
Some people say man is the most dangerous animal on the planet. Obviously those people have never met an angry cat. ~ Lillian Johnson
Butterfly
I don't think it is so much the actual bath that most cats dislike; I think it's the fact that they have to spend a good part of the day putting their hair back in place. ~ Debbie Peterson
Napping Time
Silly Cat Print
by
AllyJCat
Browse other
Kitten Posters
Prowling his own quiet backyard or asleep by the fire, he is still only a whisker away from the wilds. ~ Jean Burden
No Oreos?
WHAT NO OREOS
by
dagkokid
See other
Cat Posters
Cats speak a subtle language in which few sounds carry many meanings, depending on how they are sung or purred. "Mnrhnh" means comfortable soft chairs. It also means fish. It means genial companionship...
and the absence of dogs. ~ Val Schaffner
Silly Kitty
The best kind of alarm clock is the purring kind. ~ Alexis F. Hope

I hope you enjoyed these pictures of silly kitties. For more funny pictures of cats, check out the pages listed below.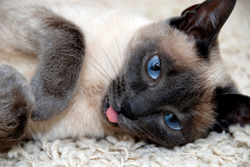 Related pages
Leave Silly Cat Pictures and go to Cat Pictures
Go to the Home Page of Cat Lovers Gifts Guide