Interactive Cat Toys
Go play!
Interactive cat toys provide your cat with the opportunity to exercise and have fun at the same time. This is especially true for indoor cats that tend to exercise less.




Some interactive cat toys may require your participation. These shared playing sessions can turn into wonderful bonding moments, so take advantage of that.
Most pet stores carry a wide selection of interactive toys for cats, so I'm sure you'll find something that will please your kitty. This page will give you some pointers to help you find the right interactive cat toy for your cat. Needless to say, interactive toys make perfect gifts for cat lovers and their cats.
Interactive cat toys galore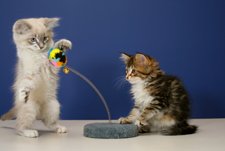 Cats are playful animals. Some are more active than others, but they all enjoy a fun toy. Here's a list of interactive toys you may consider getting for your cat.
Battery operated cat toys
For the very active cat, a battery operated cat is the perfect choice. You can find different battery operated toys: from the traditional mouse toy, to fun spinning wheels, to motorized balls. You can also find battery operated string toys that you can hang from the doorknob. I have my reservations when it comes to string toys because of safety issues, but the one I've seen is safe for your cat to play with. This toy has the string attached to it, and it stays in place, even when cats repeatedly tug and pull the string.
These toys are perfect for both young and active cats. You will find several options to choose from: traditional mouse toys, lifelike mouse toys, rats, and others.
Ball cat toys
This is the quintessential interactive toy. Yes, cats love playing with ball toys by themselves, but it will be more fun if you play with them. This toy truly gives you the chance to interact with your kitty. So, clear a half-hour or whatever spare time you may have and go play with your kitty. You can find sponge cat balls at any pet store, or you can use a tennis ball, a ping pong ball, even a golf ball. You'll both have fun. You will also find catnip-filled ball toys as well as battery operated balls.
Rattles
Cats are very curious animals and they are particularly attracted to noises. A rattle will certainly catch their attention and encourage them to play. It will provide your kitty with lots of fun and amusement. Of course, cats can play by themselves but if you can spare a few minutes, play with them.
Fishing poles
These fun toys will delight any cat. They do require your participation, but I'm sure you'll both enjoy the experience. And, this will help your cat stay active and healthy. You can make your own, using a flexible plastic pole and attaching a string with a mouse at the end. Or you can buy a made-for-cat fishing pole. You can find high-quality cat fishing poles - that almost look like the real thing - at many pet stores. Your cat will enjoy playing with it.
Doorknob hangers
These types of toys are very fun indeed. They come with elastic dangling parts your cat will love to tug and bat at. You just hang these toys on your doorknob and your cat will surely spend long periods of time playing and just plain having fun.
Laser cat toys
As I said before, cats are extremely curious animals, and will love chasing the laser beam. You can find laser pens and toys especially made for pets. A word of caution: This toy requires your participation and supervision. Never leave the laser pen or toy unsupervised and keep out of the reach of children and pets. And never point the laser directly at you cat's eyes as it will cause injury.
Mittens
You know how cats sometimes want to play with your hands? I discourage this practice as it may cause injury to you and may foster aggressive behavior in your cat. However, I've found toy mittens equipped with dangling toys, jingle bells, and/or pompoms. You just slip the glove on one of your hands and you are ready to play. This toy will keep your hands safe and your cat happy.
Feathered toys
Cats love feathers, so they'll certainly love a feathered toy. You can find a wide range of feathered toys, including mouse toys and even ball toys. My favorite is the feathered wand, which allows you to play with you cat.
Gift ideas
Interactive toys make great cat lover gifts. They're wonderful stocking stuffers for Christmas too. You can give one or two as a separate gift; or you can include them in a gift basket. Better yet, design a basket filled with interactive cat toys.


Related links

Remote control cat toys

Homemade toys for your cat

Catnip toys

Homemade catnip toys


Leave Interactive Cat Toys and return to Cat Toys

Return to Home Page