Tabby Cat Names
Here you will find a fun list of tabby cat names. Some of the names are inspired by the tabby pattern - which consists of stripes, spots and swirls.




You will also find names of animals that sport stripes or spots. Finally, you will find names that have nothing to do with the appearance of the tabby. However, I think that they make great names for these special kitties. Here are more names for tabby cats.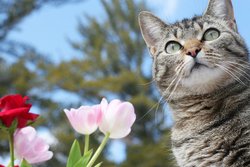 Names for tabby cats
The physical traits of your cat are a good starting point when selecting a name. But don't stop there. You can find inspiration in a myriad of places: objects of nature, names of famous people, names of cities and countries, and much more. Of course, it is always fun to give your cat a name that celebrates his or her physical beauty.
The following names play on the unique tabby coat pattern:
Dot
Dots
Dotty
Loopy
Punto (Spanish for dot, spot)
Puntito (diminutive form of punto)
Ribbons
Tab
Tail
Twirl
Twirly
Twist
Twisty
Names inspired by animals with stripes or spots
Cheetah
Ladybug
Leo (leopard)
Zebra
Miscellaneous cat names
Your cat doesn't have to be a tabby to get one of these names. They are great for all types of cats.
Amara
Arizona
Darrin
Durango
Leonidas
Leona
Leonela
Leopold
Lionel
Manolo
Mariela
Micaela
Ninnette
Page
Thunder
For more on tabby cats, please visit the following pages:
Looking for something?
Leave Tabby Cat Names and return to Cat Names
Return to the Home Page of Cat Lovers Gifts Guide