Quotations about Animals
Quotations about animals can be a source of inspiration. They can also be thought-provoking, touching and humorous. Here you will find a small collection of animal quotes. Some will make you smile while others will warm your heart. I hope you enjoy them all.




Enjoy these quotations about animals
Insight and inspiration from our furry friends...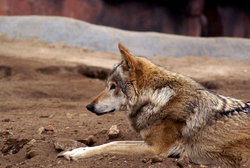 At his best, man is the noblest of all animals; separated from law and justice he is the worst. ~ Aristotle
To insult someone we call him "bestial." For deliberate cruelty and nature, "human" might be the greater insult. ~ Isaac Asimov, Isaac Asimov's Book of Science and Nature Quotations
The poor dog, in life the firmest friend. The first to welcome, foremost to defend. ~ Lord Byron
I guess cows aren't into the four food groups, especially when they are two of them. ~ Anthony Clark
Mankind differs from the animals only by a little and most people throw that away. ~ Confucius
What if it was cats who invented technology... would they have TV shows starring rubber squeak toys? ~ Douglas Coupland
Even the woodpecker owes his success to the fact that he uses his head and keeps pecking away until he finishes the job he starts. ~ Coleman Cox
I think we are drawn to dogs because they are the uninhibited creatures we might be if we weren't certain we knew better. ~ George Bird Evans
Horse sense is the thing a horse has which keeps it from betting on people. ~ W.C. Fields
Be as a bird perched on a frail branch that she feels bending beneath her, still she sings away all the same, knowing she has wings. ~ Victor Hugo


More quotations about animals
What kills a skunk is the publicity it gives itself. ~ Abraham Lincoln
No matter how eloquently a dog may bark, he cannot tell you that his parents were poor, but honest. ~ Bertrand Russell
The keeping of bees is like the direction of sunbeams. ~ Henry David Thoreau
It's not the size of the dog in the fight, it's the size of the fight in the dog. ~ Mark Twain
The dog is the god of frolic. ~ Henry Ward Beecher
Those who wish to pet and baby wild animals, ''love'' them. But those who respect their natures and wish to let them live normal lives, love them more. ~ Edwin Way Teale
We think caged birds sing, when indeed they cry. ~ John Webster
Curiosity killed the cat, but for a while I was a suspect. ~ Steven Wright
Imagine if birds were tickled by feathers. You'd see a flock of birds come by, laughing hysterically! ~ Steven Wright
Penguins mate for life. That doesn't surprise me much because they all look alike. It's not like they're going to meet a really new, great looking penguin someday. ~ Author Unknown


Books of animal quotations
If you enjoy reading about animals, you may be interested in the following books. They also make great gift ideas for cat lovers and animal lovers.


Related Pages
For more animal quotes, please visit the following pages:
Photo Image: © Evgenia Silaeva | Dreamstime.com


Leave Quotations about Animals and return to Cat Quotes

Return to the Home Page of Cat Lovers Gifts Guide