Maine Coon Cat Pictures
The collection of Maine Coon cat pictures presented here is real a treat for cat lovers. These posters and prints make wonderful cat lover gifts as well. So if you have a friend who loves this particular breed or loves big cats, consider giving her a Maine Coon cat picture.
But don't stop with cat pictures. You will also find a good selection of gifts with a Maine Coon theme. What types of items will you find? There are key-chains, mouse pads, clothing items, and much more. And the best part is that most of these articles are very budget-friendly.


Quick Facts about Maine Coon Cats
Don't know much about Maine Coons? Here are a few morsels of information about these lovely felines: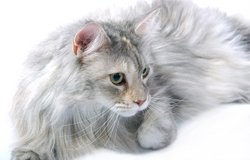 Cats of this breed are of some of the largest domestic cats. Males can weigh 13 to 18 lbs.
The Maine Coon is believed to be one of the oldest natural cat breeds of North America.
It is also believed that this breed is native to Maine. In fact, the Maine Coon cat is Maine's State Cat.
It takes a while for Maine Coons to reach their full size: it may take them up to 5 years. They're quite the late bloomers!
The playful kitten, with its pretty little tigerish gambols, is infinitely more amusing than half the people one is obliged to live with in the world. ~ Lady Sydney Morgan
Pictures of Maine Coon Cats
The following art store is brought to you in association with AllPosters.com.


Gifts Inspired by Maine Coons
The following items are brought to you in affiliation with Zazzle.com.


Maine Coon T-Shirt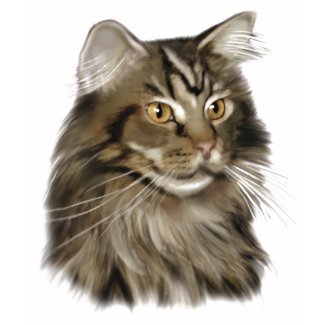 Maine Coon Cat
by
staril
Design your shirt
at zazzle
Coon-inspired Magnet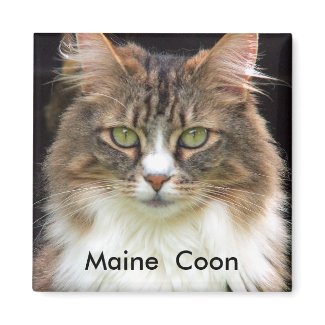 Maine Coon
by
Koala_D
More
Maine Magnets
Cat and Angel
Gorgeous Coon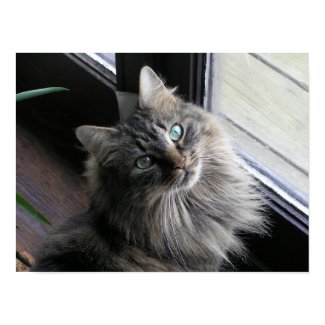 Shasta Pose
by
kahmier
More
'maine Posters
Portrait of a Maine Coon
Only cat lovers know the luxury of fur-coated, musical hot water bottles that never go cold. ~ Susanne Millen
Popular cat pages
Leave Maine Coon Cat Pictures and go to Cat Pictures
Go to the Home Page of Cat Lovers Gifts Guide