Himalayan Cat Pictures
If you love fluffy cats, you will love these Himalayan cat pictures. In looks, the Himalayan cat is almost exactly the same as the Persian, the main difference being the colorpoint pattern of its coat and the deep blue eyes. In fact, the CFA, the world's largest cat registry, recognizes the Himalayan as a sub-category of the Persian breed.


A Few Characteristics of Himalayan cats
Just like the Persians, Himalayans have a stocky body. However, they are not fat.
They have big heads, short necks, broad faces and large eyes.
Himalayans have tiny, round-tipped ears.
They have short legs and round feet.
Himalayans and pop culture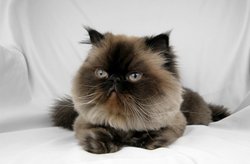 Here are some well-known Himalayan cats.
Mr. Jinx, Jack Byrnes' cat in the movies Meet the Parents (2000) and Meet the Fockers (2004), is a Himalayan cat.
Martha Stewart has 3 Himalayan cats: Beethoven, Mozart and Bartok.
Sassy, one of the main characters in the movies Homeward Bound: The Incredible Journey (1993) and Homeward Bound II: Lost in San Francisco (1996), is also a Himalayan.
Himalayan Cat Picture Gallery
The following images are brought to you in affiliation with Zazzle.com. By the way, these pictures of Himalayan cats make great gifts for feline lovers.


Beautiful Himalayan
Under The Sun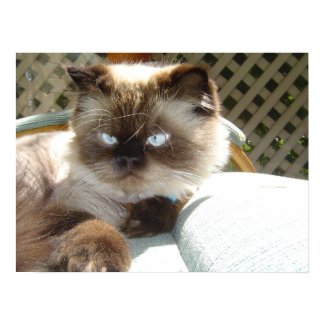 Himalayan Cat
by
cwaldherr
See more
Cat himalayan kitty Posters
In the Garden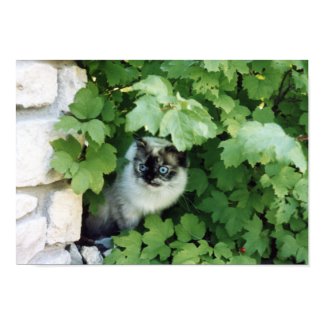 Shirley My Love
by
diane_evelyn
Browse more
Cat Posters
I Love My Himalayan
Himalayan Holiday
Sam, the Himalayan
Sam Himalyan
by
Petartist
View more
Himalayan Posters
Beauty among the Leaves
Saddee the Cat Himalayan
by
ArtzDizigns
Be a
art affiliate
with Zazzle.
Whiskers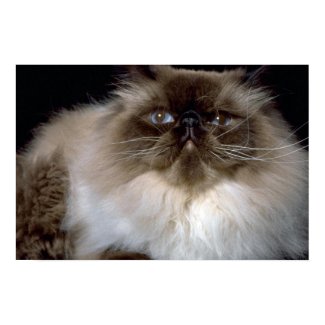 Himalayan
by
lolanimals
See other
Himalayan Posters
Friends
Friends
by
Petartist
sell your posters
with Zazzle.
Cute Cartoon
Sitting Himalayan Cat
by
ZozoCats
View other
Cat Posters
Quotes about Felines
Here's a tiny collection of some of my favorite quotes about cats. Enjoy!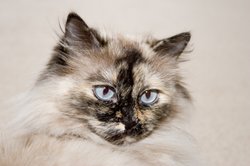 If the pull of the outside world is strong, there is also a pull towards the human. The cat may disappear on its own errands, but sooner or later, it returns once again for a little while, to greet us with its own type of love. ~ Lloyd Alexander
If you would know what a cat is thinking about, you must hold its paw in your hand for a long time. ~ Jules Champfleury
Cats, like butterflies, need no excuse. ~ Robert A. Heinlein
There are few things in life more heartwarming than to be welcomed by a cat. ~ Tay Hohoff
It doesn't do to be sentimental about cats; the best ones don't respect you for it. ~ Susan Howatch
There has never been a cat
Who couldn't calm me down
By walking slowly
Past my chair.
~ Rod McKuen
My cat speaks sign language with her tail. ~ Robert A. Stern
A cat's behavior is a direct reflection of his feelings. ~ Carole Wilbourn
Every life should have nine cats. ~ Author Unknown


For more quotations about felines, please go to our cat quotes page.


I hope you enjoyed these Himalayan cat pictures, which showcase the loveliness of these beautiful kitties. For more pictures and information about felines, please visit the following...


Related Pages
Leave Himalayan Cat Pictures and go to Cat Pictures
Go the Home Page of Cat Lovers Gifts Guide