Pictures of Cat Breeds
Looking for pictures of cat breeds? Great! Below you will find a collection of posters and art prints showcasing some of the best-known breeds of cat.


Also consider cat breeds pictures to decorate a corner of your home and to give as gifts. Cat lovers will surely be delighted with such a gift.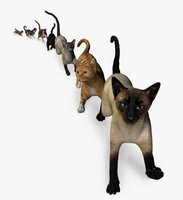 Photos of cat breeds
These pictures of cat breeds include some of the most popular cat breeds, as well as pictures of some of the biggest and smallest cat breeds.


Most popular felines
The Persian, the Siamese and the Oriental are some of the most popular cat breeds. Here are some pictures of these kitties.
These cat breed photos are brought to you in association with Art.com.


Gorgeous Persian cat
The elegant Siamese cat
Oriental Shorthair kitten
Small in size, big in personality
The Singapura, the Nebelung and the Russian Blue are considered the smallest of the domestic cat breeds. Here are some lovely pictures of the littlest of the bunch.
These pictures are brought to you in affiliation with AllPosters.com.


Beautiful Russian Blue
Domestic Cat, Russian Blue Female

Photographic Print
Buy at AllPosters.com
The tiny Singapura cat
Singapura Cat

Photographic Print
Buy at AllPosters.com
Large kitties, big love
The Main Coon is considered to be the largest domestic cat breed. The Ragdoll is another big cat.
I've also included the Norwegian Forest in this gallery, even though, on average, this breed is not as large as the previous too. But these kitties (especially the males) can weight up to 18-20lbs.
The first picture is brought to you courtesy of Art.com. The last two are provided by AllPosters.com.


Maine Coon cat
Ragdoll cat in the garden
Domestic Cat, Seal Bicolour Ragdoll Kitten Decked in Daisy Chain

Framed Art Print
Buy at AllPosters.com
Norwegian Forest Cat
Head of Norwegian Forest Cat

Photographic Print
Buy at AllPosters.com
I hope you enjoyed the pictures of different cat breeds presented here. For additional pictures and breed information, please visit the pages listed below.


Related Pages

Calico cat pictures

Ragdoll cat pictures

More Ragdoll cat pictures

Large domestic cat breeds

Popular cat breeds


Leave Pictures of Cat Breeds and return to Cat Pictures

Return to the Home Page of Cat Lovers Gifts Guide