Bengal Cat Photos
Here you will find a gallery of Bengal cat photos. So if you love these wild-looking felines you're in for a treat.




These felines have wild ancestry in their blood. Bengal cats originated as a result of crossing a domestic cat with an Asian Leopard Cat. Despite their wild origins though, Bengals of the fourth generation (F4) are quite domesticated.
By the way, if you want to learn more about this fascinating breed check out this article, which has more information about Bengal cats.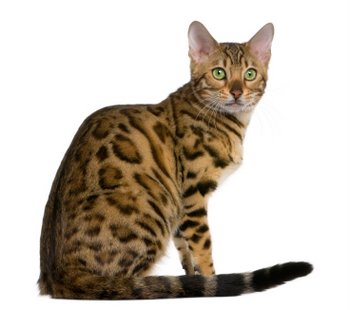 Love Bengals and/or wild cats but can't have your own? Then get a picture showcasing Bengal kitties. By the way, a Bengal cat photo also makes a fantastic cat lover gift.
The pictures shown below are brought to you in affiliation with AllPosters.com.


Bengal Cat Pictures
Sometimes, I think of Bengal cats as smaller versions of the Bengal tiger. However, the Bengal cat looks more like a leopard than a tiger. I guess it must be the name.
I hope you enjoy these pictures as much as I do.


Brown Spotted Bengal Cat
Domestic Cat, Female Brown Spotted Bengal Viewed from Above

Photographic Print
Buy at AllPosters.com
Playful Bengal kitty
Domestic Cat, Brown Spotted Bengal Female Leaping for Toy

Photographic Print
Buy at AllPosters.com
Bengal Kittens
Bengal Kittens

Art Print
Buy at AllPosters.com
Bengal Cat Close-up
Domestic Cat, Female Brown Spotted Bengal

Photographic Print
Buy at AllPosters.com
Spotted Bengal
Domestic Cat, 5-Month Female Brown Spotted Bengal

Photographic Print
Buy at AllPosters.com
Painting of a Bengal cat
Bengal

Art Print
Buy at AllPosters.com
Here are more Bengal cats pics. For more information about Bengal cats and to see additional pictures of cats, please visit the pages listed below.


Related Pages

All about Bengal cats

Bengal cat gifts

Bengal cat names

Calico cat pictures

More calico cat pictures

Siamese cat photos

Ragdoll cat photos

Pictures of several cat breeds


Leave Bengal Cat Photos and return to Cat Pictures

Return to the Home Page of Cat Lovers Gifts Guide