Tuxedo Cat Gifts
Looking for tuxedo cat gifts? Look no further. Here you will find several gift ideas that will please tuxedo cat lovers in particular and all cat lovers in general.
Tuxedo cats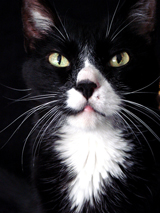 These gorgeous black and white cats have a very distinctive coat pattern. They look as if they are wearing a tuxedo. Interestingly, not all black and white cats are tuxedos. They must have solid throughout their bodies and white in just a few specific places. Needless to say, these elegant felines make great pets.
Visit our tuxedo cats page to learn more.
Tuxedo cat gifts
Tuxedo cat lovers, young and old alike, will enjoy these gifts:
-- T-Shirts. Buy or create your own t-shirt depicting tuxedo cats. Many online stores give you this option. This is in fact one of the gifts you can easily personalize. And if you need more personalized gift ideas, see below.
-- Plush toys. If you can't give a real tuxedo cat, give a plush one instead. You can even find lifelike versions.
-- Calendars. Tuxedos have graced many a calendar. You can find a wide selection at affordable prices.
Books and Music
I have found several books in which tuxedos are the protagonists, including:
-- Old Possum's Book of Practical Cats by T.S. Eliot. It is in this book that we're first introduced to the "Jellicle cats" (a clan of black and white cats).
-- Dakota in Disguise by Alice Janowski
-- Norm is Warm by Sally Foulon Cooper
And Cats, the Musical by Andrew Lloyd Webber, makes a great gift for music lovers. Memory is one of my favorite songs.
Gifts for Art Lovers
If you know someone who loves tuxedo cats and art, consider the following tuxedo cat gifts. You can find beautiful artwork depicting tuxedo cats:
Posters
Art prints
Paintings
Photographs
By the way, if you are looking for a name for your tuxedo, visit our tuxedo cat names page.
Personalized gifts
If you want to give a unique gift, consider giving customized gifts or making your own.
Several online stores allow you to upload your own images and pictures or choose from a selection of designs. You can personalize different items, including calendars, mugs, t-shirts, caps, mouse pads, aprons, and much more. These make fun gifts indeed.
If you enjoy doing arts and crafts projects, make your own tuxedo cat inspired gift. For instance: you can take a photograph of your tuxedo cat, make a drawing, or a doll, and give any of these items as a gift.


Related Links

Tuxedo Cats - Beautiful in Black and White

Tuxedo cat names

Black and white kitten gift ideas

Calico Cats - Learn about these tricolor cats

Tabby Cats, Tabby Cats

Tortoiseshell Cats

Siamese cat gifts

Calico cat gifts


Leave Tuxedo Cat Gifts and return to Cat Gifts

Return to the home page of Cat Lovers Gifts Guide