Kitty Will Love A Plush Cat Toy
Cats enjoy playing, and they will certainly enjoy a plush cat toy. Whether your cat is young or old, active or laid back, a plush kitty toy will be welcomed.
Cats are curious and playful by nature; therefore, a cat toy will provide your cat with plenty of entertainment.
She'll spend long hours playing with her plush toys.
A plush toy (or a set of several cuddly toys) makes a fun and inexpensive gift for any cat lover.
And the best part is that there are plenty of options to choose from.
Stuffed animal toys
A stuffed animal is a toy animal usually stuffed with filling materials as varied as cotton, sponge, straw, beans, plastic pellets, and others.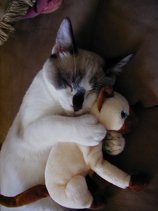 By some accounts, stuffed animals date back to the 1830s. Some believe that they go back even further. These earlier plush toys were made of cloth and were filled with straw. Most of these toys were human-like dolls. Later, stuffed animals became very popular. The most popular was the teddy bear.
It is believed that the first commercial firm devoted to making stuffed toys was founded in Germany in 1880. Other famous makers of stuffed animals and toys are Gund and Build-A-Bear.

Gift Ideas
Not so sure about what type of plush toy to choose? Here are some fun and affordable gift ideas:
Different types of plush cat toys
There are many options to choose from. You can find a wide selection of stuffed animals such as ducks, tigers, worms, and turtles, just to name a few. These toys come in different sizes too.
Gift basket fillers
A cat-themed gift basket is a fun gift for any cat lover. Adding a plush kitty toy (or more) to any cat gift basket is a great idea. Another option is to give plush toys of different shapes and sizes.
Stocking stuffers
Don't know what to give kitty for Christmas? A plush cat toy or two will delight any cat! Stocking stuffers make fun and inexpensive gifts.
For extra fun…
Give your cat a plush toy filled with catnip. You can even get a refillable catnip toy for long-lasting fun! Visit our catnip toys page for more information.
Plush balls
My cats absolutely love playing with plush balls. These toys will provide your cat with long hours of fun and entertainment.
Plush mice
Cats love mice, and fortunately you can find very realistic plush mice at many pet stores. They look almost like the real thing. And of course, you can find plush, catnip-filled mice. Kitty will love these toys.
Interactive plush toys
You can also find battery operated plush toys. These toys are perfect for active kitties. They also encourage not-so-active kitties to exercise. Many come filled with catnip.
Plush cats for humans
Don't forget about your human friends. You can find a variety of plush cats: from the very realistic to the fun and whimsical. Plush cats are great gifts for cat lovers of all ages. Here are more plush cat ideas.


For more cat toy ideas...

Catnip Toys


Need more gift ideas? Check below...

Plush Cats: Cuddly Gifts for Cat Lovers

Choosing the Right Piece of Cat Furniture

Give the Gift of Cat Jewelry


Leave Plush Cat Toy and Return to Cat Toys

Go to the Home Page of Cat Lovers Gifts Guide