Pet Portraits:
A Lovely Gift that Captures
your Cat's Feline Beauty!
Pet portraits have grown in popularity in recent years, and many artists now specialize in portraits of pets.
Prices may vary, depending on the artist you select. Rates can go from affordable to very expensive.
Fortunately, you can find good prices online without sacrificing quality.
Cat portraits make thoughtful and beautiful gifts for any cat lover. Indeed, a work of art is a wonderful medium to capture your pet's beauty for posterity. Surely, a portrait of a beloved pet will become a cherished decorative piece.
Useful pointers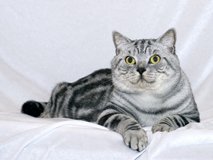 Here's a list of some factors to consider if you decide to commission a portrait.
Framing options
Some online artists provide framing options. Some, however, do not. So before you commission your portrait, ask the artist whether he or she offers this service. Some experts recommend to have a professional framer do the framing for you. Take into account that this option will cost you extra money, but it will be worthy.
Also consider the type of glass you want to cover your painting with. There are different types of glass: regular, non-reflective, and diffusing glass. These vary in price and quality. You may ask your professional framer which type is best for you.
Prints and other online services
Many online artists archive images of your portrait. This is great if you want a copy of your pet's portrait at a later time. Many artists allow you to order prints of your portrait. And they give you different size options to choose from.
Some online artists also offer photo enhancement services. So if you have photo portraits you want to optimize, this is a perfect service for you.
Pet portrait artists online
There are many excellent pet portrait artists who offer a high quality service. Prices will vary, depending on the artist and the type of work you want.
Most portrait artists require a high quality photograph to do a replica. So make sure you submit the best picture you have. Remember, this is a gift for posterity.
If you prefer, you can also give a gift certificate. Many online portrait artists and studios offer this choice. This is an excellent option and will certainly please your special cat-loving friend.
Ready to commission a cat portrait? Check the following pages:
Moon Song Gallery - Realistic and lifelike portraits that make wonderful gifts or keepsakes.


Leave Pet Portraits and Return to Cat Art

Cartoon Art

Dog and Cat Art

Return To Home Page