Kitten Names
Choosing kitten names might seem an easy undertaking, but many cat parents will agree that, in the words of T.S. Eliot, naming cats is a difficult matter. After all, you want a very special name for your very special kitty. So if you need inspiration, look no further.




Here are some names for kittens that you may consider. Or maybe they can help you ignite your creativity and who knows maybe you'll come up with a truly unique name.
Female names for kittens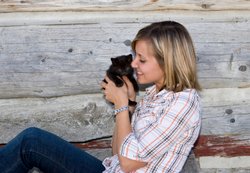 So your kitty girl is amazing, what would be the perfect name for her? Queen or Princess would do justice to her regal demeanor. Here are more names:
Alicia
Alyssa
Amanda
Amelie
Amalia
Anika
Anna
Annie
Bella
Belle
Bernice
Bibi
Bonnie
Carmen
Carmelita
Chi-chi
Chloe
Clare
Claire
Danika
Danny
Desiree
Dora
Domenica
Donatella
Eliza
Ella
Esme
Esmeralda
Estella
Esther
Veronica
Male names for kittens
Your male kitten is the cutest thing... But you are stuck in your search for the perfect name. Here are some ideas.
Alfonso
Ariel
Armand
Azrael
Benny
Bernie
Bertie
Bobbie
Cesar
Carl
Champ
Cornelius
Dickson
Diego
Don
Donny
Eddie
Edgar
Edouard
Ernest
Fernando
Ferdinand
Foster
Franky
Gabriel
George
Gordy
Gordon
Johnny
Jon
Junior
Simon
Did you find a name you like? If not, here are more names for kittens. And please keep checking back, more names coming soon…



Related Links

Cute names for female kittens

Siamese names for kittens

Names for black cats

Feline names inspired by literary cats

Additional names for kittens

Tuxedo cat names

White cat names

Cute cat names

Kitty cat names


Leave Kitten Names and return to Cat Names

Return to the home page of Cat Lovers Gifts Guide