Dog and Cat Names
Are you looking for dog and cat names? Do you have a dog and a kitty and would love to give them unique and original names? If you want to go beyond "Fido" and "Fluffy", here is some inspiration. Below you will find a list of cat and dog names to help you get started.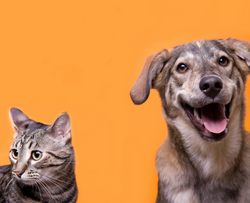 Most popular names for dogs and cats
According to Veterinary Pet Insurance, the largest provider of pet insurance in the United States, the following were the most popular names for dogs and cats of 2008. How did they compile this list? Well, they examined their database of over 400,000 insured cats and dogs and using that information they arrived at the results we share below.


Most popular feline names
Max
Chloe
Tigger
Tiger
Lucy
Smokey
Oliver
Bella
Shadow
Charlie
Most popular canine names
Max
Bailey
Bella
Molly
Lucy
Buddy
Maggie
Daisy
Sophie
Chloe
As you can see, Max is a popular name for both male cats and male dogs. And for both feline and canine girls, Chloe is a big favorite. What is your favorite name?


More names for dogs and cats
Okay, you think that the list above is well and good but you want names with a punch. If you need more inspiration, here are some names that are perfect for either a kitty or a doggie.


Female names for cats and dogs


Adaira
Adara
Adeline
Aura
Brenna
Brianna
Erin
Flora
Flossie
Isolde
Lucinda
Magda
Maura
Maureen
Moira
Nelda
Nelly
Noreen
Winnie
Winnifred
Male names for dogs and cats


Brady
Brandon
Brody
Darby
Damian
Darius
Dawson
Gavin
Gordie
Klein
Lester
Lucius
Rory
Robbie
Rocky
Rufus
Sweeney
Tramp
Trevor
Uther
So did you find a dog and cat name that you like? If you need more inspiration, you may visit our feline names page for lots of ideas. You may also want to visit the links below.


More about cats and dogs...

Dog and cat pictures

Dog and cat art

Funny cats and dogs


Leave Dog and Cat Names and return to Cat Names

Return to the home page of Cat Lovers Gifts Guide