Christmas Cat Pictures
Christmas cat pictures will certainly add a touch of feline cheer to your Christmas. You will find a wide selection of posters and prints showcasing the most adorable Christmas cats.
Needless to say, a Christmas cat picture makes a great and affordable gift for all the cat lovers on your Christmas list. Below you will find several gift ideas.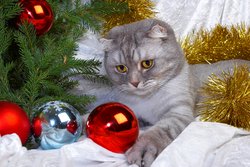 If you want to give a unique gift, why not make your own gifts? You may use your own cat pictures and graphics. Or you can use the pictures of your friend's cat. Sites like zazzle.com let you upload your own graphics and create your own designs. This is a wonderful way to personalize your gifts and to express your creativity.


Did you know?
According to a survey conducted by PetSmart a couple of years ago, roughly 95% of pet owners planned to buy their pets a Christmas present or a holiday treat.


"No amount of time can erase the memory of a good cat, and no amount of masking tape can ever totally remove his fur from your couch." ~ Leo Dworken
Pictures of Christmas Cats
The following Christmas cat pictures are brought to you in conjunction with zazzle.com. Spread the Christmas spirit with a cute cat picture.


Merry Xmas
Wishing you all a furry, snugly and happy holiday season.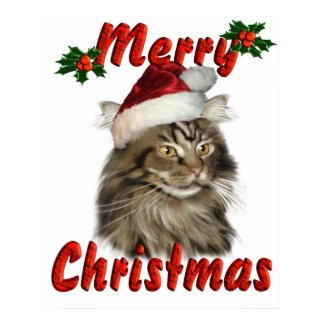 Merry Christmas Maine Coon Cat
by
staril
Browse more
Cat Posters
A Cat Tree
At my house, we have a tradition of decorating the Christmas tree following a specific theme. Every year we choose a different theme. But we've never decorated the Christmas tree with a feline theme. Now there's an idea.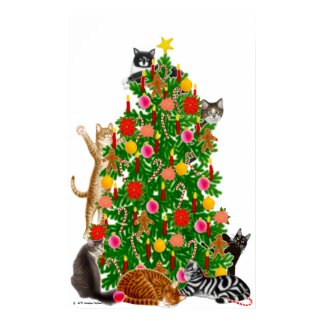 Merry Kitty Christmas Tree Print
by
twopurringcats
sell your paintings online
at zazzle.com
Baby Jesus and Cat
This picture has a feline twist of the popular theme of the Madonna and child.


Santa Cat
Some kitties don't get into the Christmas spirit too easily. Sometimes you have to bribe them. Sometimes nothing works.


Why Me?
by
LABoston
Start
selling my artwork online for free
at Zazzle.
Christmas Kitties
Just relaxing by the fire… Enjoying a quiet Christmas in the company of friends and family…


Christmas Cat Tree
Decorate the tree, deck the halls, wrap the presents… add a touch of feline mayhem and you're all set for the holidays.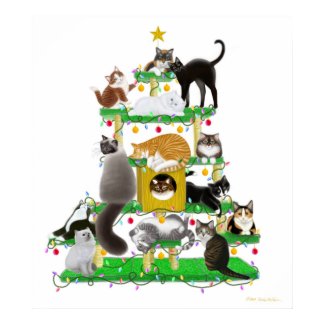 Christmas Cat Tree Print
by
twopurringcats
Browse other
Cats Posters
Xmas Gifts
Guess who got the most presents this Christmas… I guess he was on Santa's "nice" list.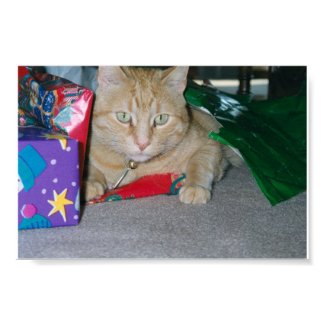 Christmas Cat
by
ragfield
Join one of the biggest
artist affiliate programs
Another Santa Kitty
Hmmm… this candy cane looks yummy. Does it have catnip inside?


Christmas Cat Poster (pick the size)
by
all_items
sell your art
online with zazzle.
Cats by the Fire
Kitties keeping vigil by the Christmas stockings…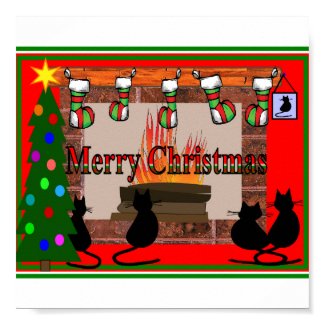 Christmas Cats Poster, Adorable
by
gailg1957
Large format printing
from zazzle
Happy Holidays
I'm getting sleepy here. When is the party getting started?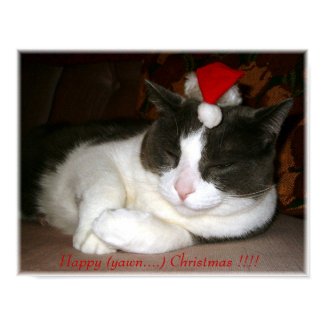 Xmas Cat
by
Mandicrafts
See other
Cat Posters
You own a dog, but you feed a cat. ~ Jenny De Vries
A Christmas Cat Video
My cat Max, just like Chip, the kitty in the following video, loves unwrapping his gifts. I admire their feline gusto. That's how you open a present!


Christmas Quotes
Nothing like a few holiday sayings to get into the spirit of the season. Here are some of my favorite holiday quotations.
~~~
And this shall be a sign unto you; Ye shall find the babe wrapped in swaddling clothes, lying in a manger. ~ Luke 2:12
Christmas is a time when you get homesick - even when you're home. ~ Carol Nelson
Christmas waves a magic wand over this world, and behold, everything is softer and more beautiful. ~ Norman Vincent Peale
Christmas Eve was a night of song that wrapped itself about you like a shawl. But it warmed more than your body. It warmed your heart… filled it, too, with a melody that would last forever.~ Bess Streeter Aldrich
~~~
If you enjoyed these Christmas cat pictures, you may like the following...


Christmas cat pages
Leave Christmas Cat Pictures and go to Cat Pictures
Go to the Home Page of Cat Lovers Gifts Guide