YOU TAUGHT ME TO SIT UP SO WHERE IS MY FOOD?
by Lindy
(Scottsdale, AZ)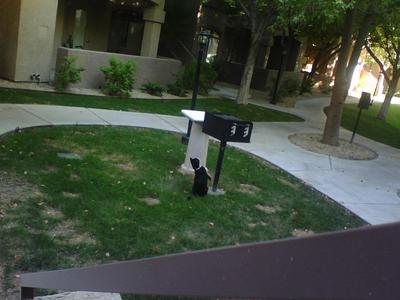 YOU TAUGHT ME TO SIT UP, NOW WHERE IS MY FOOD?
Sneakers,as she came to be known, was abandoned in an apt. complex in Socttsdale AZ.I was temporarily leasing an apt there and noted one evening she was all alone and crying for food while sitting on a low wall. I took her in and adopted her and over the ensuring months taught her to "sit up" to receive her meal. She was an outdoor cat during the day and I took her in at night (until I made her a permanent indoor cat). One day after returning home from work I was up in the apt fixing dinner and looked outside and there she was "sitting up" at an abandoned bbq waiting for someone to feed her. That photo still makes me laugh as does she 5 years later, still with me, safe and sound. Whomever abandoned her in that apt complex should be arrested for animal abuse and neglect. However, it was my lucky day to have rescued her and made her part of my family.