Thumper
by John Gilligan
(Middletown, NJ)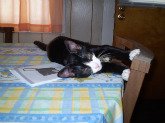 Thumper and his 2 litter mates were left on the front steps of our Parish House with a note addressed to our Pastor that the present owner was elderly and could no longer afford to feed the 3 kittens. The first one out of the cat carrier was Thumper, he was followed by a mixed siamese kitten and unbeknowest to us at that time there was a 3rd all black kitten who was extremely skittish. We provided all 3 with a litter box and cat food as Father has 2 cats himself. The siamese mix was adopted that afternoon by one of the parishoners.

The next morning after the 9:00am Mass the all black kitten was adopted. My little friend was left all alone in the office located in the parish house. During the 1030am Mass, Father came over to discover that my friend had managed to open the door of the office and get out and was walking around the hallway. We put him back in and watched and the little smarty stuck his paw under the door and popped it open again. Father said I should take him and I debated, but in the long run I did and am so grateful that I did.

That week we went to the vet and they told me he was about 5 months old. He had his shots and then he was neutered and has been in the house since (he is not an outside cat). What a clown he is, but I love him and hope he loves me. He is now my best friend. His now about year and a half old. What a joy....