Plants Poisonous to Cats
Below you will find a list of common plants poisonous to cats.
Cats love chewing on plants, so it is important to take precautions to prevent your cat from ingesting poisonous plants. The plants listed below can cause illness, severe irritation and even death.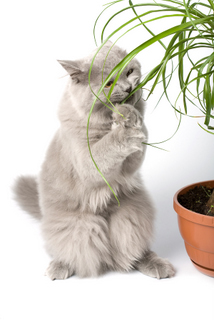 Indeed, poisonous plants can cause several potentially dangerous reactions. Some of the most common symptoms include, but are not limited to, diarrhea, upset stomach, vomiting, difficulty breathing, and abnormal heart rate.
Is an indoor cat safe from poisonous plants? Unfortunately, you can find toxic plants indoors as well as outdoors. So before you start decorating your home with live plants, make sure they will not pose a threat to your cat.
In case of an emergency - Very Important

If you think your cat has ingested a poisonous plant or any other toxic substance, call your vet or contact the ASPCA National Animal Poison Control Center immediately. The ASPCA toll free number is 1-888-426-4435.
Common Plants Toxic to Cats
This is not a definitive or complete list. Always check with your vet if you have any doubts about any plant, or go to the ASPCA site . They have an exhaustive list of toxic plants.
By the way, lilies (and all members of the lily family) are highly toxic to cats. Other toxic plants are:
Alocasia
Aloe Vera
Amaryllis
American Holly
Apple Seeds
Apricot
Azalea
Begonia
Bird of Paradise
Black Calla
Buttercup
Cactus
Calladium
Calla Lily
Carnation
Castor Bean
Cherry
Clematis
Creeping Charlie
Christmas Cactus
Chrysanthemum
Cyclamen
Daffodil
Day Lily
Desert Rose
Dhalia
Easter Lily
English Lily
Eucalyptus
Fern Palm
Fig
Foxglove
Gardenia
Gladiola
Grapefruit
Hibiscus
Holly
Hortensia
Hydrangea
Iris
Ivy
Larkspur
Lemon
Lily of the Valley
Locust
Mistletoe
Morning Glory
Narcissus
Oleander
Onion
Philodendron
Poinsettia
Rhododendron
Tulip
Yew
For more information on poison control and prevention visit the ASPCA Animal Poison Control Center.


Related Topics

Cat Care Basics

General Cat Information


Leave Plants Poisonous to Cats and return to Cat Articles

Return to the home page of Cat Lovers Gifts Guide