Finding the Perfect Gift
for a Cat Loving Pope
---
The Today Show's Matt Lauer Presents the Pope with a Crystal Cat
When The Today Show sent broadcasters Matt Lauer and Al Roker to Italy to report on the state of the modern Catholic Church, their papal visit included a formal meeting with Pope Benedict XVI. Reports demonstrate that the public might be rather surprised that the NBC news team presented a crystal cat to the head of the Roman Catholic Church, but in truth, through both choice and tradition, the Curious Cat, a crystal cat from Steuben, proves to be a perfect gift for the pontiff.


An Intimate Visit with Pope Benedict XVI Requires a Gift
This was not a typical piece of news coverage. The Today Show was accompanied by New York's Archbishop Timothy Dolan who gave Lauer and Roker a private tour through the Basilica, including a look at Pope John Paul II's newly installed tomb—the first look for an American broadcast. The Vatican even allowed the Today Show private footage of Benedict XVI's daily life; starting from his morning Mass to his final evening hours, watching Italy's evening news.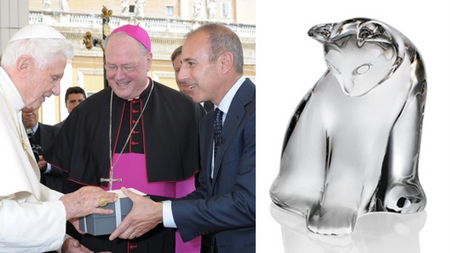 After they joined a crowd of thousands listening to an address from the Pope, Lauer and Roker shared a private moment with the pontiff and the Archbishop. Upon initial introductions, the two Today Show hosts received personal blessings from the head of the Catholic Church. In return, Matt Lauer presented the Pope with the Steuben gift box that contained the crystal cat. The veteran news team also had a rare opportunity to visit with the pontiff in his private residence. This was a personal and intimate visit, even if it was broadcast and shared with the world, and required consideration of the Pope's personality, his fondness for cats and the tradition of American gifts of state.


A Unique and Scholarly Pope Based in Conservative Traditions
In many ways, as the 265th Pope to lead the Catholic Church, Pope Benedict XVI is quite an individual who deserves to be recognized as more than just the oldest cardinal elected into the position of Pope since 1730.
A native of Bavaria, the Pope maintains both German and Vatican citizenship. He also remains a professor at the University of Regensburg, after a long academic career serving as a professor of theology at various German universities.
He was born Joseph Ratzinger in 1927 in what is considered a traditional Bavarian farming family; his father was a policeman. Given his age and nationality (he is the eighth German to become Pope), Ratzinger holds the unique distinction of being conscripted into the Hitler Youth following his 14th birthday in 1941. In 1943, while still in seminary, he was drafted into the German anti-aircraft corps and then trained in the German infantry. As a German soldier, he was put in a POW camp even though he had deserted his post when the Allies drew near. He then reentered the seminary with his brother Georg after his release from the POW camp.
Known to repeatedly state that he would have liked to retire to his house in the Bavarian village and dedicate himself to writing books rather than be Pope, he has authored many books both before and after his Papal election in 2005. Pope Benedict is the founder and patron of the Ratzinger Foundation, a charitable organization, which makes money from the sale of his books and essays in order to fund scholarships and bursaries for students across the world.
Pope Benedict is an accomplished pianist with a deep interest in classical music, citing Wolfgang Amadeus Mozart as his favorite composer. Not only does he maintain a grand piano in his papal quarters to play, but the Pope has recorded an album of contemporary classical music in which he sings and recites prayers to the Blessed Virgin Mary.
While modern touches, such as the Church's new found use of social media to reach and communicate with parishioners, make us think otherwise, Benedict XVI is considered theologically conservative, defending traditional Catholic doctrine and values. It only makes sense to rely on traditional etiquette when visiting his home and The Today Show hosts did not come empty-handed when visiting the Pope.
It is said in traditional etiquette, that when you visit someone's home, one must bring a "hostess gift". A hostess gift is given to the host or hostess of an event by guests. A small hostess gift is generally considered appropriate for dinners and parties, while guests who are staying for several days may get something larger. It is said that a hostess gift should also be something the recipient would not personally buy for him or herself. When the opportunity is there, a gift should complement the receiver. There are no public Miss Manners guidelines for papal visits. While the hostess gift might seem like a quaint tradition to some, it is still alive and well and appreciated by all recipients.


It Is A Known Fact The Pope Benedict XVI Is Fond Of Cats:
As Cardinal Ratzinger, he was known to look after stray cats in Rome.
One website refers to him as Chairman Meow.
A book titled "Joseph and Chico: A Cat Recounts the Life of Pope Benedict XVI" written by Jeanne Perego, was published in 2007. It tells the story of the Pope's life from the feline Chico's perspective. This story was inspired by an orange tabby cat.
In 2008, the media reported the Pope was lent Bella, a grey cat, in order to keep him company during his visit to Australia.
The Pope has been known to bless Cats.
As Matt Lauer explained on the Today Show's Wednesday morning segment:
"We had heard that this Pope has a real love for cats… and, anyway, we just wanted to offer him some gift to show our appreciation for the time and generosity he showed us."
Hence, the perfect fit for the pontiff was the crystal glass cat.


A Steuben Crystal Cat; the Classic American Gift of State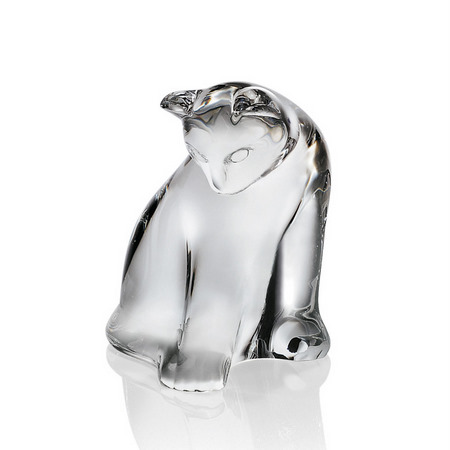 This papal gift wasn't merely a glass cat figurine; this cat was a Steuben crystal cat. As stated by Mark Samitt, President of Steuben:
"We were honored to hear that the Today Show chose Steuben to express their appreciation to such an important world figure. Steuben continues to be selected as an official American gift of state, reinforcing its image as a product fit for leaders."
It is a very accurate statement indeed. Since 1903, Steuben glass has been based in Corning, New York. Steuben has been a Gift Of State for every president since 1947 beginning with Harry Truman gift of Steuben's Merry-Go-Round Bowl and Audubon Plates to Queen Elizabeth on the occasion of her wedding. For more than fifty years, various Steuben Crystal has been given as gifts under the most auspicious circumstances:
A Steuben gift was given to John D. Rockefeller as part of the opening ceremonies of Lincoln Center.
President Dwight D. Eisenhower presented Steuben crystal to His Excellency, Juscelino Kubitschek, President of Brazil, as part of his state visit.
The Great Ring of Canada was given to Prime Minister Lester Pearson by President Lyndon Johnson "For the People of Canada on the Centenary of Canada's Nationhood from the People of the United States of America."
The citizens of Atlanta presented Martin Luther King, Jr. with an engraved Steuben bowl in honor of his winning the Nobel Peace prize.
President Richard Nixon on the momentous occasion of the President's first visit to China in 1972 presented Steuben's Tiered Prism to Premier Chou En-Lai.
An engraved Steuben bowl was chosen as the gift of state from President and Mrs. Ronald Reagan for the wedding of Prince Charles and Princess Diana.
Steuben's Mobius Prism was given by President Clinton as a royal wedding gift to Crown Prince and Princess Hirohito of Japan.
NYC Mayor David Dinkins gifted Steuben crystal to the Gulf War Generals Colin Powell, Norman Schwartzkopf, and Secretary of State Dick Cheney, at the "Welcome Home" parade festivities and then chose Steuben for Bill Clinton when he was the Democratic Presidential candidate.
Leave Steuben Cat and go to Cat Articles
Go to the Home Page of Cat Lovers Gifts Guide