Ozzie and Zeppelln part feline part human!
by cyndi
(Massachusetts usa)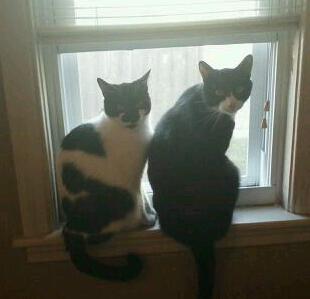 Ozzie is the Tux..A rather large lovable smart regal boy who we adopted at a shelter when he was 8 wks. HE is now 3 1/2 yrs old. His buddy, our Zeppelin ..is the cow cat which I rescued from the cold. He was a bit too young to be without a mama kitty, so we had to hand feed for a bit. He is so affectionate. HE LOVES LOVES to play fetch. He sits on command and loves to play in water..these two boys bring me so much joy. Check them out!

Note from the webmaster: Click on each thumbnail to enlarge picture.