nobody wanted buckwheat.
by Bob Cogswell
(Mccall .I.D.)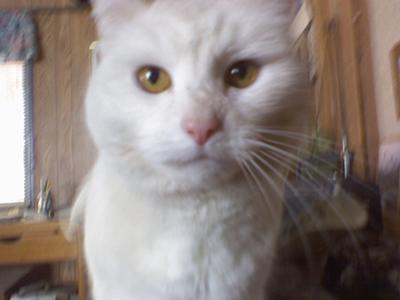 6 years ago i went to the local dog & cat shelter, we needed a mouser for the barn. I asked what cat has been there the longest. The lady said buckwheat... She pointed to the cage with the solid white cat. The cat clung to me intensely, i was covered with white hairs, looked at the gal said i will take her, the only cat i looked at. When i went to the counter to pay the fee, the gals said we are not going to charge me, the reason was the folks who dropped her off, drove hundreds of miles to ensure that the cat would not be put down due to full shelters, it was not about money. It was a personal promise filled.

But the real story is that when i was 6 years old my grandmother gave me a pure white kitten, that cat grew up with me, all ways at the foot of my bed, and insuring me life was good, grew up went in the army. The cat got old lived a good life, 35 years later there is white, pure white cat sleeping at the foot of my bed. I often wonder if its the same cat, I know its unreal...But there is something, i cant explain.

My gratefulness to the folks who made the drive from washington,to idaho. THANK YOU.....