My little OREO
by Lisa
( san jose,california)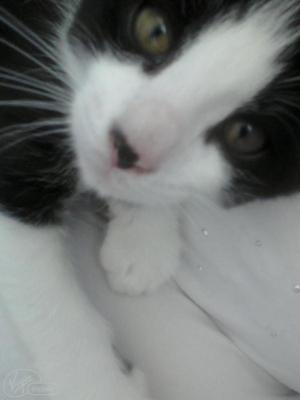 He is just a wonderful playful little kitty, when I talk to him its like he talks back to me. I can already tell how he likes to play. If you let him stalk you he is so happy...

Often I'll get down on his level and play with him and pretend to be the prey, I watch how his little pupils dilate and widen as he fixates on me then he goes in to the most adorable pounce I have ever seen. His favorite place to rest is on my shoulder when he's all done playing, he gives me a kitty kiss and then falls to sleep...

He has been a true joy and I look forward to raising him. I don't feel like his owner I feel he is a part of my family, I may have brought Him in my home but the reality is he has adopted me and I'm loving every minute of it.