I prefer Tuxedo Cats!
by Megan C
(NH)
Space Cat
Years ago, when I was 12, my mom was diagnosed with terminal breast cancer. My father was always on the road, and my grandparents and aunt did'nt believe my mother's condition. Isnt that lovely of them? My parents kept the issues pretty sheltered from me. Being a 12 yr old is confusing enough. My mom a wonderful strong women, fought her cancer even though they said there was no hope. She proved them wrong with a Patch Adams
attitude that humor and high spirits could cure all. She would come home from kemo, so exhausted and worn out, her feet would always be freezing, and our little tuxedo cat Franky *born the day frank sinatra was born Dec 12* Even had a little goat-t under his chin, we joked made him look like a beatnick. Would keep her feet warm on the couch. She had to sleep on because she was so nauseous. She did in fact beat the cancer.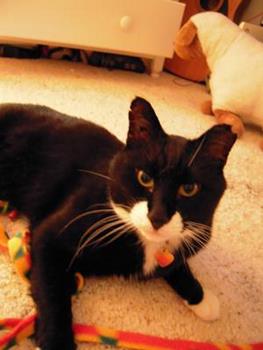 The year Franky was born we were in transition and living out of a hotel during x-mas. My previous tuxedo cat had had kittens, Franky being one of them. My parents once again made the most out of the circumstances and it is actually one of my best holiday memories was in that hotel. Many people put down reserves for christmas/new year kittens. I couldnt let the new little tuxedo kitten go. I wanted him all to myself to match his mother. He grew up and was a wonderful member of our family. On nights when any of us was sad, or sick, he would always be there when we needed him the most. He was there for me when I had problems, he kept my dad company early in the morning when no one else was up, he warmed my mothers feet when the kimo reacted bad in her system. Some say animals have a sixth sense, others say its just a hormone released by humans that animals can smell. Whatever it was, he was there for us. Sadly, Franky got diagnosed with a rare bone disease that was incurable. The vet, also a Franky lover, broke down in tears himself and couldn't bear to tell us. We sadly had to put him down, lest his bones turn to dust in a painful death.

Since that day, I thought I could never have another tuxedo cat. No one could be like Franky.
I was wrong. My family moved yet again. My mother happened by a humane society just for the heck of it.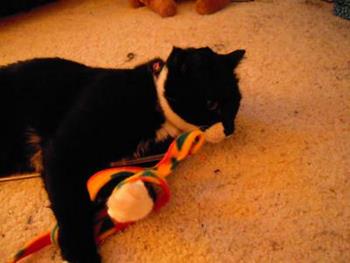 She looked around and saw a bunch of new arrivals. She spotted one that might peak my interest. I went there with her, only to see a beautiful tuxedo cat, fighting for his life. He was so worn he could barely lift his head. His paws and ears were covered in bandages, laying on his side with a pack on his left leg, with a breathing mask on. He was the one. The ladies recommended I find a different cat to adopt because they feared he would not live. I was determined, my mom knew, we both knew. My mom went there everyday when I was in school to check on him. Sure enough he got better. The ladies still insisted that we find another cat. They were not sure if the frost bite on his paws to need amputation. We believed he would make it. They ladies informed us of his background, that he was a ferral cat found near dead in a snow bank, with his nose frozen to the pavement, his tale was broken from an accident long before and was never properly set, he has chips in his ears, scratches and scars from fighting, his left leg was periodically sore possibly from another injury. He healed, and he became familiar with our faces. The ladies were still concerned that since he was ferral it would not work out. We took him home and loved him. He loves us back. He is the best cat, he seems grateful for having a warm roof over his head, toys, and food. It was obvious he was ferral before hand because he was not sure how to act around people but he seemed like he wanted to since they saved him. Every christmas he is the most excited one in the entire house, and that includes my nieces and nephews. He love to sleep under the christmas tree, and he loves getting a christmas stocking every year. He waits patiently as we open our gifts and then open his. He plays with every toy as if each one is more special then the last. I have not seen a cat act so grateful for all he has. He keeps my moms feet warm when she is sick, he keeps my dad company in the morning, and he is always there when I need him. Franky is his name, named after a once great cat...given to another great cat. He was a popular little mascot for my college class. At lunch time we could leave the school and play with him to get the stress out. He is still a fighter and a big bad alley cat when hes out side, but with us he is a big marshmellow of love. I believe in my heart that tuxedo cats are special cats. Something about their fancy wrappings is a sign that they need special attention by humans. They are no ordinary cat. They are dressed to impress for a reason, let one into your life and you will see how impressive they truly are.

In the pictures you can see his broken tail and chips in his ears. The white on his belly even has a break in it like a cumber bun. the lower half is heart shaped. And if your wondering what the domes are on his ears they are those plastic things you get out of crank vending machines for 25 cents. Dont worry they did'nt hurt him. Hes been threw enough.