Hurley (the fatty)
by Nicolette
(Los Angeles, CA United States)
Hurley on the couch with Scooby
Hurley is your average cat (but just a tad more special)
He was the runt of the litter as a kitten..... look at him now! He is a little over 20 pounds. He is a BIG lover!!!

He sleeps with me at night. I will put a pillow above my pillow, and he sleeps on the one above me. He snores so loud! He loves yogurt. After I eat the yogurt, whatever is left he licks it clean.

When he was young him and another kitten we got from the litter, were trouble makers. They liked to scratch everything mostly furniture. My mother was fed up so she sent my baby's to go live with my uncle where his back yard off the porch deck was a canyon. Hurley loved people so he stayed by the door instead of exploring, unlike his brother. I begged for weeks to get them back and my mom gave in... as always :) HAHAHA but when we went for them we could only find Hurley. We expected the worse for his brother :( Hurley is like my child I could not live without my baby. I love him soo much and he is healthy and loving still today, at the age of 7.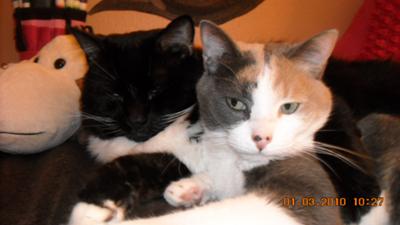 Hurley behind my other cat Roxy/his wife