Highly recommend tuxes...
by Jonathan
(Columbus, OH)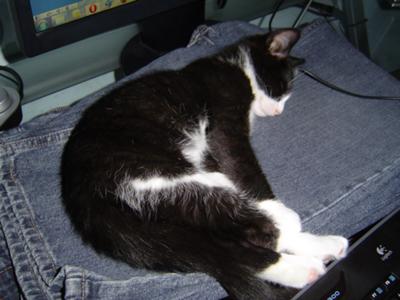 I got my tuxedo kitten from a stray litter. He was the only male and the rest of the litter were all calico. He stood out like a sore thumb and was the only one of the litter that wouldn't hiss at me. I named him Leonidas, after the Greek Spartan king.

First night of adoption was difficult as he was used to being a stray and basically hid and cried. After that? He has been like glue on me. He follows me around in the house wherever I go. He will always stay in the room I am in and sleep there if tired. If he wakes up and sees that I am gone he will wander around till he finds me and then curl up and go back to sleep. I have been told that when I leave the house he will stand at the front door and cry for me.

He also plays fetch. If you take a play toy, such as a spring shaped pipe cleaner, and toss it he will fetch it and bring it back. Of course I reward him with petting and encouraging voice. Toss it again and he'll fetch it and bring it back again. When I wake up in the morning I usually find 4-5 cat toys on the bed that he has "retrieved" for me.

He has just been a wonder to have and he has helped me through a very depressing time in my life as well. I originally picked him so I could have something help catch and eat spiders (which I hate). Little did I know that he'd form a bond with me that I shall cherish forever.

In the picture, he always insists upon sleeping in front of my keyboard. I would think the glass desk is not comfortable so I put an older pair of jeans there for him. It's his permanent spot whenever he wants to sleep while I am on the computer.