Does anyone know what type of cat this is?
by Scott
(Lancs, England)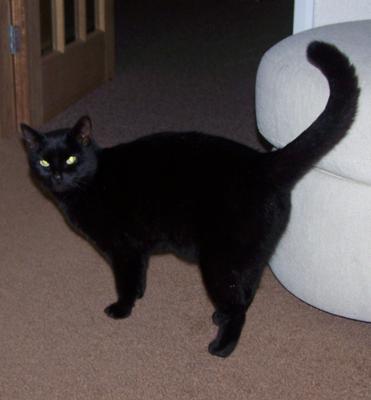 We call her "Velvet" from that song "Black Velvet" by Alannah Myles
We got this cat from the RSPCA, after her previous owners had thrown her out of a window. They didn't know what type of cat she was, as she has a very small head compared to her body length and tail. She is a very affectionate cat and loves to be stroked, but does not liked being picked up, we have only had her for six months, so we think it may be linked to being thrown out of a window, so we'll persevere trying to pick her up, she is happy to held for about a twenty seconds or so, then she'll go mental to try and get down, but when you do put her down she does NOT run off, she then rubs herself in and around your legs!!!! Her coat is super soft, it's almost addictive stroking her! But I would really like to know what type of cat she is, as people always ask, as it is such a striking cat with her small head.