Cat Statues
There are different types of cat statues: There are garden statues, metal statues, and fine art statues, to name a few.




You can find statues made out of different materials, such as wood, bronze, cement, marble, granite, and many more. Luckily, you can easily find feline-inspired statues online. And, you can find these pieces in different price ranges. You will certainly find a unique piece that fits your budget.
Needless to say, a cat statue makes a very special cat gift. Statues are a perfect medium to portray cats' beauty and elegance.
Below you will find information about the different types of cat statues, and tips to help you select the perfect cat-inspired statue for you or your cat-loving friends.
Statues…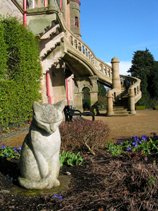 A statue is a representational piece. Statues can depict a person, an animal, or an object, for example. And, most statues are created to be displayed in public places.
Now, what is the difference between a statue and a sculpture? Well, overall they both refer to the same type or work. Indeed, both terms are used interchangeably. If you look up the words in the dictionary, they're synonymous of each other. However, my artist friends have told me that there is a subtle difference between a statue and a sculpture. They say that most statues portray realistic and/or lifelike subjects (like people or objects, for instance). Sculptures, by contrast, can be more abstract in nature.
Decorating with cat statues
Statues of cats make perfect decorative pieces. And since there are many options to choose from, you will certainly find the perfect item to match with your home décor.
Cat-inspired statues can be used as decorative elements and/or focal points to enhance any room or area, such as the living room, the library, your home office, the garden, the bedroom, the bathroom, and even the kitchen. You can also use statues as doorstops and bookends.
Selecting the perfect cat statue
So how do find the perfect cat statue? That depends on several factors, like personal taste (or the recipient's taste, if the gift is for somebody else), your budget, the available space to display the piece, etc. Here are some ideas to keep in mind during the selection process:
-- Size: Do you want a small or a large statue? Of course, you have to take into account how much space you (or your friend) have available for the statue. You can find statues in varying sizes, from small statuettes to life-size sculptures.
-- Material: Do you favor materials like cement, marble and granite? Or do you prefer metals, such as bronze, iron and copper? What about wood, plastic and clay?
-- Style: Do you prefer classic or modern? If the gift is for a friend, consider his or her personal preferences. You can find traditional statues, as well as humorous and whimsical ones. And if you prefer something out of the ordinary, then go for an abstract sculpture.
-- Display area: Do you want a statue for the garden or for the living room? For the garden, you can find a wide selection of cat-inspired statues, fountains, and planters. Fortunately, there are many options to choose from: terracotta statues, metal pieces, decorative stones, and much more. You can also beautify the indoors with a carefully selected statue. You can find whimsical statuettes, wooden statues, and unique, abstract sculptures – just to name a few.
-- Price: It is a good idea to establish a budget before starting your search. You can certainly find statues at affordable prices. But if your budget allows it, you can also get gorgeous fine art sculptures.
Also consider:
Statues by breed: You can find statues portraying the different breeds of cats, including Siamese, Persian, Ragdoll, Himalayan, and Bengal, among many others. You can also find statues of calicos and tabbies.
Colors: You can also find statues depicting cats of different colors: From solid colored cats (black, white, orange, gray…) to bi-colored and tricolored cats. Beside these realistic representations of cats, you can also find statues in different colors.
Big cats: If you love the big cats, then consider statues of lions, panthers, leopards, and cheetahs – to name a few.

Mythical cat: Statues of Bast (or Bastet), the Egyptian cat goddess, make a wonderful and unique gift. You may also find other Egyptian-inspired statues and figurines.

Fun and whimsical cats: There are statues depicting fat cats, cute cats, and kittens. These pieces will certainly put a smile on your face every time you look at them.
In motion or at rest? You can find statues of cats playing, sleeping, sitting, etc.
Optional gifts
Cat figurines, cat-shaped paperweights, and other cat collectibles make great and affordable gifts. Indeed, these items are the perfect alternative if you are on a limited budget.
If you are giving a gift basket, you may also include one or several cat figurines.
If you want (and can) splurge a bit, cat-themed birdbaths for the garden make beautiful gifts.
Art books
If you or your friends love reading, sculpture, and art in general, you might enjoy the following books:
Sculpture Today by Judith Collins (Editor). A beautifully illustrated tome, it discusses different works, styles, and techniques.
Cats Big and Small, Vol. 4 by Christi Friesen. This book showcases polymer sculptures of cats.
Top Cats: The Life and Times of the New York Public Library Lions by Susan G. Larkin.
Related links
Cat garden statues and yard art
Cat paintings - gift ideas
Leave Cat Statues and Return to Cat Art
Return to Home Page