Cat Litter Boxes
Shopping for cat litter boxes? A cat litter box is indeed an essential item for any cat owner.
A good quality litter box also makes a great and practical gift, especially for those of your friends who have recently adopted a kitten or a cat.
Luckily, there are many types of litter boxes in the pet market to choose from.
Don't have any idea of where to start?
Don't fret. Here are some ideas to help you pick the most suitable litter box for your kitty or your friends' kitties.


Factors to Consider
Size
Litter boxes come in different sizes. Make sure that you cat fits inside the litter box, especially if you're buying a covered litter box. An adult cat should be able to move around inside the litter box comfortably.
Design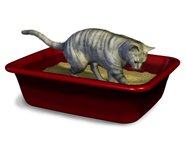 Pet stores offer an array of styles to choose from. Litter boxes come in different shapes and colors.You'll find domes, square-shaped litter boxes and even tents.
If color is important to you, pet stores provide you with litter pans and boxes of different colors: from neutral shades to the brightest tones. You will certainly find one that matches your home décor.
Do you have multiple cats?
In this case, you'll likely need more than one litter box. Cats are territorial by nature, and just having one litter box might create a problem.
It is recommended that you have the same number of boxes as you have cats.
Of course, there are exemptions to the rule. For instance, I have two cats and just one litter box. They get along just fine.
Hood or No Hood?
For my cats I prefer hooded litter boxes. Some people do favor un-covered litter pans, especially for kittens, as they afford the opportunity for potty training. As your cat grows older you might decide to get a cover or tent for the cat litter pan.


Which type of litter box is best?
Cat litter Pans: Un-covered litter pans are a great idea if you have a kitten or an older cat since they are more accessible. However, many cats prefer privacy. So… if you decide to get a litter pan, make sure to provide your cat with some privacy by putting the litter pan in a low traffic, quiet area. Keep in mind that this option can be a little messier because the litter is not contained.
Covered Litter Boxes: These are my favorite option. Covered cat litter boxes provide your cats with privacy. Plus, most of these types of kitty litter boxes come with filters to help reduce odor. Do remember to clean the litter box daily.
Self-cleaning, automatic litter boxes: An automatic litter box is the perfect option if you want to eliminate the hassle of daily cleaning. Even though they might be pricier than regular litter boxes, they are worth it.


Where to put the cat litter box?
Okay, you have seen and compared many cat litter boxes... You have finally picked the best cat litter box for your kitty. Now, where is the best place to put it?
Good question. As I said before, cats like privacy. Therefore, you need to place the litter box in a quiet spot with low foot traffic.
However, make sure that the spot you choose is accessible to your cat. I know people who have placed the litter box in their bathroom or in their basements, making it hard for cats to reach the litter box.
Again, wherever you put the litter box, make sure it is a safe and accessible spot for your cat.
The ideal place should be: somewhat secluded yet easily accessible.


Other essentials
Litter carpets and mats: These are great to keep the litter box area and floor clean.
Litter liners: These will help you keep the litter pan cleaner. However, some cats don't like liners. See what works in your case. Pan Liners for Booda Dome Clean Step Litter Box are a great choice.
Scoops and Carbon Filters: These are a must! Make sure you replace them on a regular basis.
Remember...
...to clean the litter box every day and replace the litter on a regular basis. Cats are very clean animals and will refuse to use a dirty litter box. In addition, a clean cat litter box is essential for your cat's health and well-being.
Note: Wash the litter box and cover regularly. Use soap and water and avoid strong cleaning substances. Since most litter boxes are made of plastic, they tend to absorb the cleaning liquids. Even when you don't smell these liquids, cats can. Besides, these substances can be harmful to your cat. Eventually, you will need to replace the litter box.
Kitty does not want to use the litter box? Learn about how to prevent and solve litter box problems here.


Litter box store
And for additional information on litter boxes...
Powerfulguides.com- Littermaid Repair Manual
If you are having problems with your Littermaid cat box, don't despair... and don't run out and buy a new one just yet. This Littermaid Repair Guide will show you that most malfunctions can be easily repaired, saving you lots of money!


For tips on cleaning pet stains, using products you already have in your home. Please go to this page.


Looking for something?
Related Topics
Litter box problems

Cat Litter Box Covers and Cabinets


Leave Cat Litter Boxes and Return to Cat Furniture

Return to Home Page