Cat Grass...
provides roughage to your cat's diet
What is cat grass? Well, some people use the terms kitty grass and catnip interchangeably. However, in this instance, kitty grass refers to the shoots of grains such as rye, oats, barley, and wheat that are grown to be fed to cats.
Now, why should cats eat grass?


Even though cats are primarily meat eaters, they do like to nibble at leaves and other types of vegetation from time to time.
Experts believe that there is no nutritional explanation as to why cats love grazing grass. Some believe that cats crave the fiber plants provide. It is well-known that cats in the wild will eat plant residuals found in the stomach and intestines of their prey.
If you own a cat you may have seen him or her munching on your house plants, which in fact can be dangerous. Many indoor (and outdoor) plants are poisonous to cats. Mistletoe, rhododendron, and daffodil are examples of these dangerous plants. And to complicate matters, many outdoor plants and lawns are treated with pesticides and/or fertilizers, which are also hazardous to your cat's health.
So cat-grass is a safe alternative to satisfy your kitty's cravings. Plus, this is a perfect option for indoor cats as well as city cats. They get to have a little bit of the outdoors inside their homes. Below you will find more information about kitty grass and a few gift ideas.
The importance of kitty grass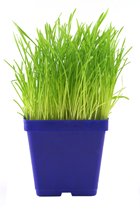 Cats are carnivores, but they still need fiber in their diet. You can find cat food enriched with fiber at most pet stores. However, cat-grass is way more fun. And cat grass provides fiber in its natural state. In addition, many of these grasses provide your cat with vitamins - including folic acid - which are important elements of a balanced diet.
Another great benefit of the regular ingestion of cat-grass is that it will help in the prevention of constipation and hairball buildup.
In addition to all these benefits, cat-grass will assuage your cat's appetite for vegetation. Do take note that some cats will vomit after eating grass. Experts say that this is normal, within limits. If you see that your cat continues to vomit, consult your vet.
Luckily, you can get chemical-free, organic cat-grass at many pet stores.
Grow your own cat grass
So you've decided to give cat-grass a try. Where can you find it? Fortunately, many online stores sell seeds to grow your own kitty grass. Just follow the instructions and within a short amount of time, your cat will be enjoying safe, delicious, home-grown cat-grass. You can also find kits complete with seeds, planters, soil, and instructions. Most of these kits are affordable, so these make a great cat lover gift too.
Supplement
Barley Cat (of Green Foods) is a dietary supplement made of barley grass, which contains vitamins and amino acids. It does not substitute fresh grass, but it is a nice source of nutritional components your cat needs. You can find this supplement at many pet stores, online and offline.
Gift ideas
-- Cat-grass kits make an excellent cat lover gift. As I said previously, these kits come with containers, soil, seeds, and user-friendly instructions. You can give it as a separate gift or you may include it in a gift basket.
-- Another gift idea is the Chia® Cat Grass Planter. It comes with a mix of oats and wheatgrass seeds, and easy-to-follow instructions.
-- In addition to giving a cat-grass kit, give a kit to grow catnip and/or a package of dried catnip leaves. Together, they make a great gift for kitty.


Related topics
Catnip - cats just love it
General cat care
Leave Cat Grass and return to Cat Articles
Return to Home Page