Buddy, The name might sound boring but the story is good
by Kevin Johnson
(Minneapolis)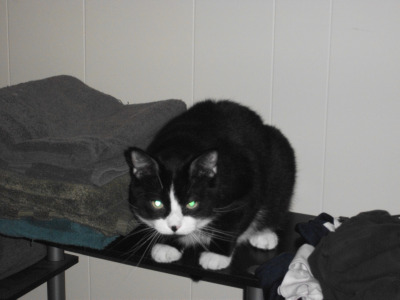 Same pose Buddy had when I found him
I found Buddy abandoned by some neighbors in my apartment building after they had been evicted. (They were thoroughly loathsome people, and the fact they abandoned Buddy like this just proves it even more)

It was the day before thanksgiving 2007, and it had been snowing all afternoon. Buddy was crouched just barely below a step on the stairs leading to the building lower level. I just saw his 2 ears when I stepped into the apartment building entrance. He was obviously very scared and put up virtually no resistance when I picked him up and brought him to my apartment.

Little did I know how quickly this would all change.

Buddy was an UNEUTERED male cat in the midst of his sexual prime. I left him alone in my apartment to run to the grocery store to get him some food and basic cat supplies. I was gone for MAYBE 45 minutes. By the time I got back Buddy had "Marked" my clean laundry and was terrorizing a mouse in my closet. He was also letting out the most ear shattering yowel of sexual frustration I have ever heard.

That's how he got his name, because I remember looking at him and saying: "I hear ya Buddy, but neither of us getting laid anytime soon...sorry"


Is he a perfectly colored Tuxedo Cat or what?
I just like this pose