A Feral Kitty
by Nancy J.
(Denver, CO)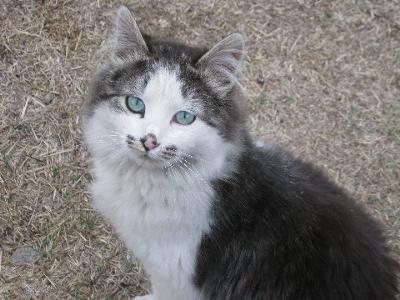 Bitty Boo
The first time I saw her she was a ball of black and white fuzz. It was about the middle of October 2010 when I began seeing her nearly every day. She would appear out of the blue in our backyard and disappear under the neighbor's fence. I began feeding the little kitty and her Momma which I named (Big Momma) a feral tuxedo cat. I decided to call the little kitty "Itty Bitty Boo" because she was so little and she always hid and then she would reappear.

Itty Bitty's name finally got shortened to Bitty Boo. She is black and white and has black dots around her whiskers that makes her look like she has a black mustache or a black smile "happy face"! I fell in love with her because of her smile and her eyes. They are like an aqua blue. I found out she is part siamese too.

I began hand feeding her treats to get her use to me and ended up catching her, taking her to a feral/stray program and had her spayed, shots and tested for feline leukemia, etc. I was told she was very healthy.

She is our third rescue kitty and is very smart. Bitty Boo is becoming more socialized and adapting very well to being an indoor kitty!

Feral kittens can be tamed and trained if you get them young enough and give them love, patience, and tender care!

Thanks,
Nancy J.