Halloween Cat Names
Halloween cat names are perfect for black cats and kittens. But regardless of the color of your cat, a Halloween name is always fun and unusual. Check the list below for a few Halloween-inspired feline names.




Halloween and cats (especially black cats) seem to go hand in hand. But why are they associated with Halloween? Cats have long been identified with witches and superstition, so it seemed just natural to connect a holiday that partly evolved from pagan traditions with the mysterious feline.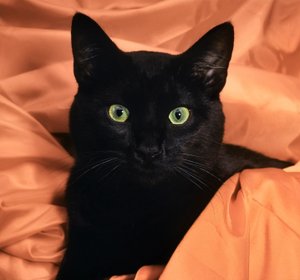 Halloween names for cats
When things go bump in the night... And there's no place to hide...
Ready for some spooky monikers? Here we go...
Abracadabra
Adams
Bat
Batty
Boo
Boris
Candy
Casper
Coven
Crimson
Crypt
Damian
Deville
Elvira
Fantasma (Spanish for Ghost)
Friday
Fright
Ghost
Gomez
Halloween
Haunted
Hellboy
Hellgirl
Hocus Pocus
Hyde
Jekyll
Knight
Luna
Magic
Mask
Moon
Moonlight
Morticia
Night
October
Pumpkin
Raven
Sabrina
Salem
Samantha
Severus
Spell
Spook
Spooky
Thirteen
Thriller
Treat
Trick
Wednesday
Werewolf
Witch
Wizard
Wiz
Did you enjoy this list of Halloween names for felines? I certainly hope so. If you need more name ideas for your kitty, check the links below.
Related Links
Halloween costumes for cats
Halloween cat pictures
Magical cat names
Names for black cats
More black cat names
Leave Halloween Cat Names and return to Cat Names
Retun to the home page of Cat Lovers Gifts Guide